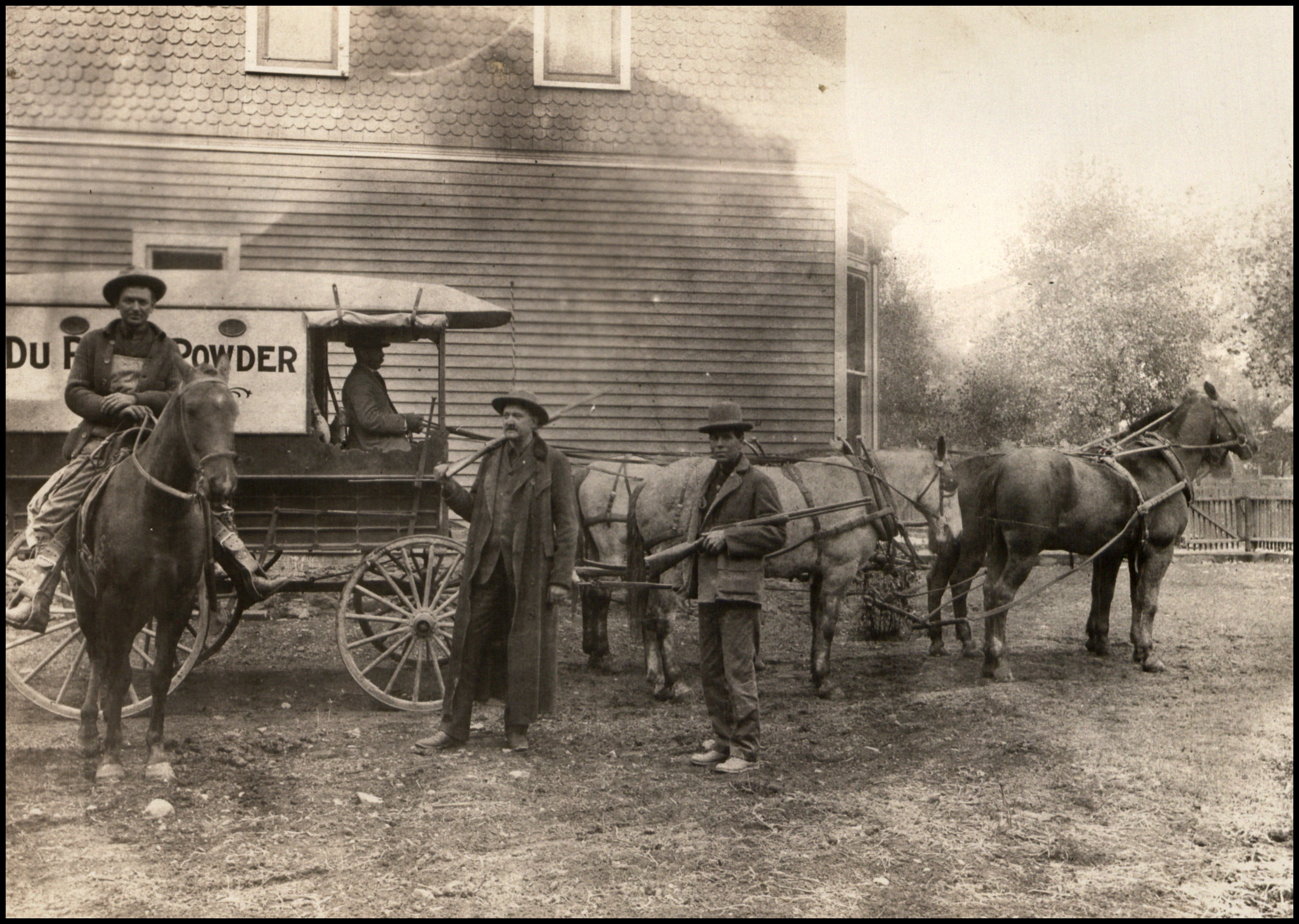 On this date, November 8, in 1875, Frank Bryant, Henry Coder and William Cudney staked out the first of two nearly simultaneous 'Discovery Claims' of gold near what would become the town of Deadwood, South Dakota. The second claim was made the following day by a team of eight prospectors led by John B. Pearson. And so began the Deadwood gold rush, the last great gold rush in the Continental United States.
This 1910 photograph shows a DuPont Company wagon delivering gunpowder to the town of Deadwood. According to William Flanigan, a former DuPont employee, the wagon had a cream-colored top, green body, and red wheels. Flanigan also identified some of the men in the photograph; the man at left, on horseback, was identified as Arthur Simpson, the brother of W.S. Simpson, a DuPont employee. The man at right with a gun cradled in arms is identified as Robert Divinnell.
This photograph is part of Hagley Library's collection of Brandywine Valley oral history interviewees' photographs (Accession 2017.225). Between 1954 and 1990, Hagley Museum staff conducted a series of oral history interviews, speaking primarily with individuals who had worked at the DuPont Company powder yards on Brandywine Creek during the yards' final decades of operation or who had lived near the yards as spouses or children of DuPont Co. workers.
Some of the individuals who were interviewed donated, lent for copying, or provided information on the photographs in this collection. The images primarily depict the worker communities which surrounded the E.I. du Pont de Nemours & Company powder yards on Brandywine Creek or the powder yards themselves
You can view it, along with other images from this collection, online in our Digital Archive by clicking here.