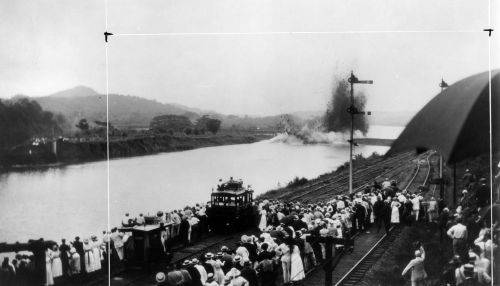 On this day, November 9, in 1906, Theodore Roosevelt became the first sitting U.S. President to make an official trip outside the country while in office. This was a significant departure from traditional presidential etiquette; both the slow pace of travel and the political optics of mingling with European royalty had kept sitting presidents' travel domestic up until this point.
This photograph, captured on October 10, 1913, shows the moment when, at 2:02 p.m., President Woodrow Wilson triggered the dynamite charge to demolish Gamboa Dike, the last remaining obstruction remaining along the length of the Panama Canal. Unlike his predecessors Roosevelt, Taft, and Harding, however, Wilson never visited Panama while in office.
Wilson's role in the demolition of Gamboa Dike occurred from within the White House Wilson's triggering of the telegraph lever in the White House relayed an electrical current that traveled via overland telegraph cabling running from Washington, D.C. to Galveston, Texas, which were connected to submarine cable and landlines operated by the Central & South American Cable Company, which then connected to a local circuit at the demolition site. When the electrical current traveling from Washington, D.C. reached the site of Gamboa Dike, it closed the circuit, tripping a weight attached to the handle of a switch that, once activated, set off the dynamite blast.
This image is part of the Hagley Library's collection of Chamber of Commerce of the United States photographs and audiovisual materials, Series II. Nation's Business photographs (Accession 1993.230.II). To view more items from this collection online, visit its page in our Digital Archive by clicking here.