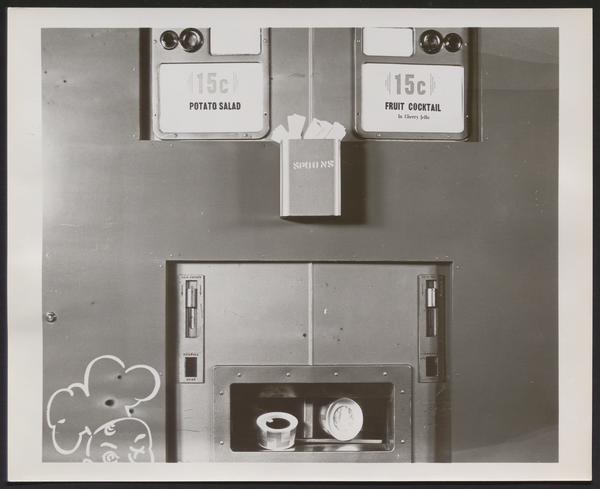 This #FoodieFriday may be as American as cherry pie, but today's internet holiday, National Cherry Day, is a British one. The observance was created in 2008 as part of CherryAid, a campaign to save rapidly declining cherry orchards in the country.
This ca. 1955 photograph of a vending machine offering up potato salad and fruit cocktail in cherry jello was taken by VendFilm, Inc., the photography and motion picture division of the Automatic Merchandising Company, which operated and installed vending machines. A signature product was the Auto-Snak, a set of food vending machines which dispensed soda, coffee, milk, sandwiches, soup, salads, pastries and ice cream. Automat style vending machines like the one seen here emerged in America after the invention of the first coffee vendors in 1946 that allowed for the use of vending machines for coffee breaks, cutting needed catering staffs in large factories.
This photograph is part of Hagley Library's Automatic Merchandising Company album (Accession 2017.202), a promotional salesman sample album from the company's branch in Detroit of automatic food vending machines for factories, universities, and offices. The album promotes the company's Auto-Snak machines which sold milk, fresh salads, sandwiches, hot coffee, pastries, ice cream, hot soup, and soda. The images show close-up views of products such as Pepsi-Cola, Dad's Root Beer, Campbell Soup and others. There is also an article about the Budd plant installing the machines and a report about solving issues related to feeding employees. Click here to view it online now in our Digital Archive.