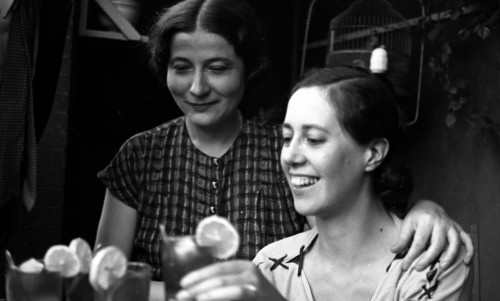 Hagley Library's John Gordon Rideout papers(Accession 2701) documents the life and career of noted industrial designerJohn Gordon "Jack" Rideout (1898-1951).
Rideout began his career in sales, moved into advertising, and eventually opened industrial design firms in Toledo and then Cleveland, Ohio. In 1944, Rideout became one of the fifteen co-founders of the Society of Industrial Designers.
The collection includes manuscripts, graphic materials, publications, and objects documenting his career and personal life. An accompanying digital collection in our Digital Archive includes images like this ca. 1932 image of family friends Buffy and Molly. The images in this digital collection come from an album of negatives in a collection of Rideout's papers.
Some of the images, likely dating to the early 1930s, depict Frank Lloyd Wright and his Spring Green, Wisconsin, estate, Taliesin. Others include portraits and candid images of family and friends; the fishing town of Leland, Michigan; an Easter church service; and a Gulf Co. service station. To view this collection online now, click here.