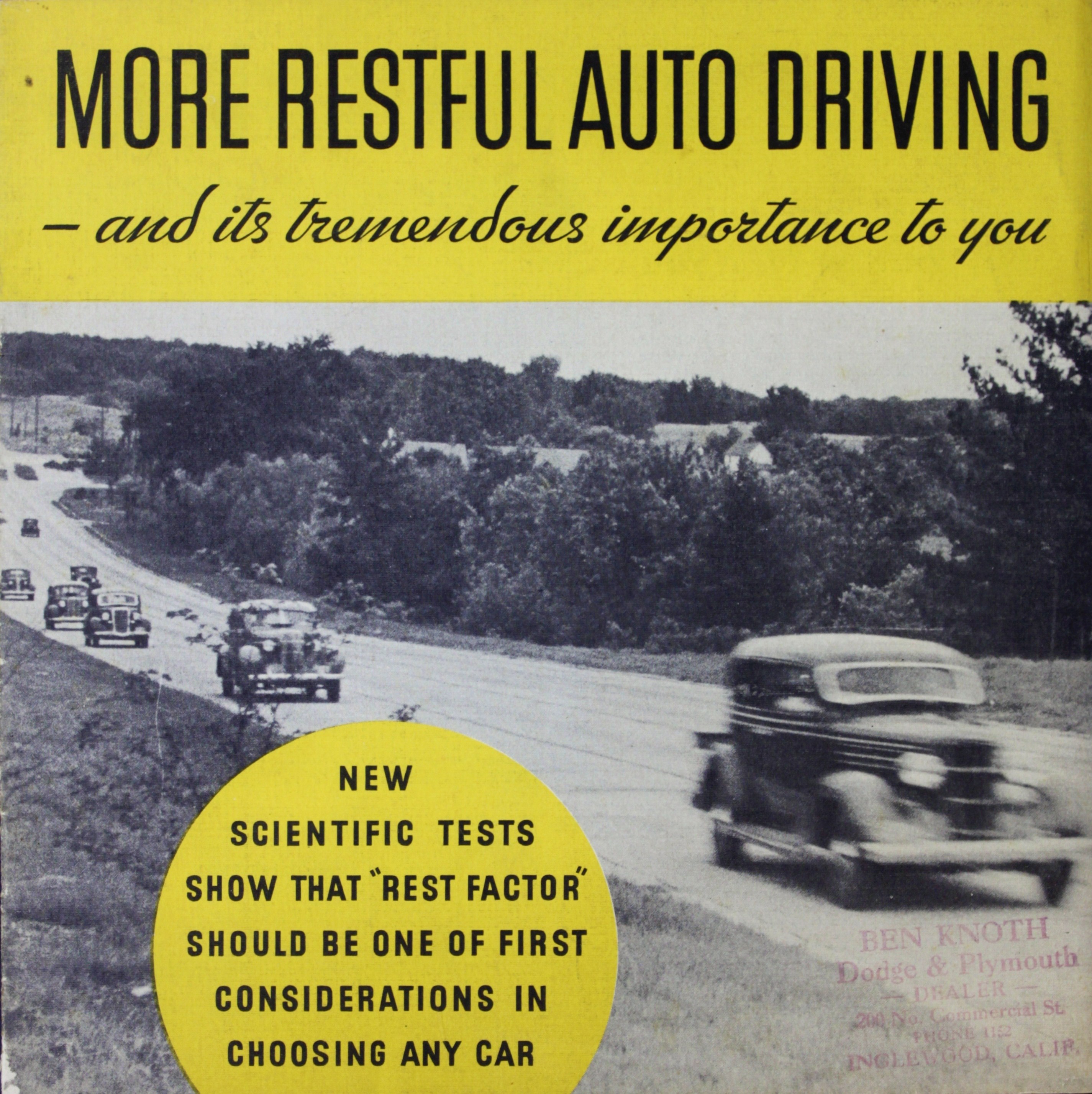 Here's hoping that this pamphlet helps manifest an easy commute for those of you heading into the office this #MotorMonday morning.
More Restful Auto Driving  - And its Tremendous Importance to You was published by the Chrysler Corporation in 1936 to help promote its Dodge Division line of automobiles. The pamphlet employed physiologist Dr. Andrew H. Ryan, former director of fatigue research for the U.S. Public Health Service, to tout Dodge's superior design in combating and accounting for driver fatigue to protect drivers and pedestrians.
This pamphlet is part of Hagley Library's collection of Z. Taylor Vinson collection of transportation ephemera (Accession 20100108.ZTV). Zachary Taylor Vinson (1933-2009) began working as a senior lawyer with the National Highway Traffic Safety Administration in 1967, a position he held until his retirement in 2003. During his time there, Vinson played a significant role in the drafting of federal safety regulations governing tires and those requiring high-mounted brake lights in the rear window of automobiles, which began with the 1986 model year.
Vinson was also president of the Society of Automotive Historians (1993 to 1995) and editor of Automotive History Review (1995 to 2009). An enthusiast from a young age, Vinson spent over sixty years collecting of automotive printed ephemera and trade literature, and he amassed a large and comprehensive collection of material documenting on the history transportation, particularly automobiles. His collection was gifted to Hagley Library by his estate in 2010.
Our Digital Archive offers a small selection of materials from the Vinson collection documenting the history of the automobile and transportation. Click here to view them online.