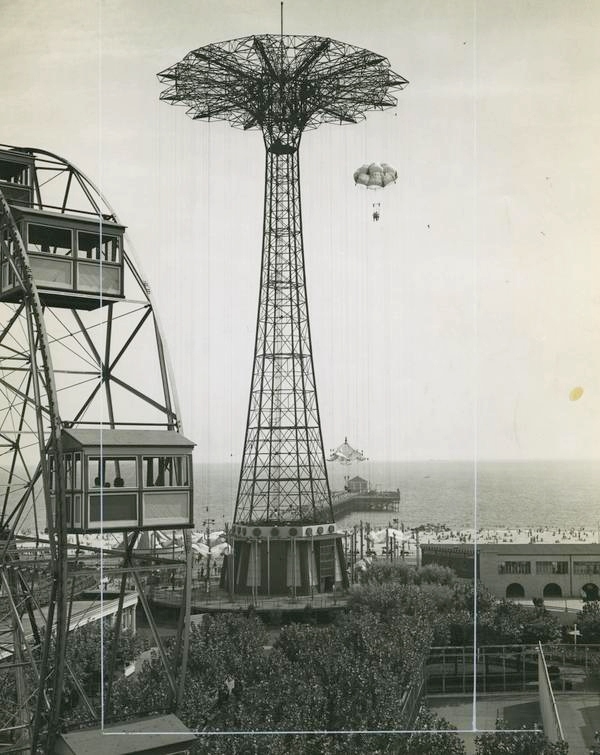 Here's a little midweek celebration of summer weekends! This April 1946 photograph was taken on Coney Island, New York and shows one of the resort town's amusement parks. Text accompanying the photograph describes the seashore resort on the Atlantic Ocean as featuring "two and one half mile stretch of beach, a 13,000 foot long boardwalk and a nationally famous amusement park. Roller coasters, tunnel rides, fun houses, shooting galleries and hot dog stands are among the many attractions visited by more than forty million people each summer."
The ride featured front and center in this image is the 250-foot-tall Parachute Jump, first unveiled at the New York Worlds Fair of 1939 and later relocated to the Steeplechase amusement park. The ride operated there until around 1968. After a long period of disuse and disrepair, though a series of restoration projects beginning in 1991 have since stabilized the structure and enabled its reuse as a lighted attraction.
This photograph is part of Hagley Library's collection of Chamber of Commerce of the United States photographs and audiovisual materials, Series II. Nation's Business photographs (Accession 1993.230.II).  The Chamber of Commerce of the United States of America formed in 1912 with the purpose of advising the government on issues facing industry and business throughout the country. The images in this subseries were taken for use in the Chamber's publication, Nation's Business.
Published from 1912 to 1999, the monthly magazine proved invaluable in communicating the Chamber's messages to business and government, and the magazine featured images by many of the country's most prominent photographers. This collection has not been digitized in its entirety, but you can view a selection of images from it online now in our Digital Archive by clicking here.