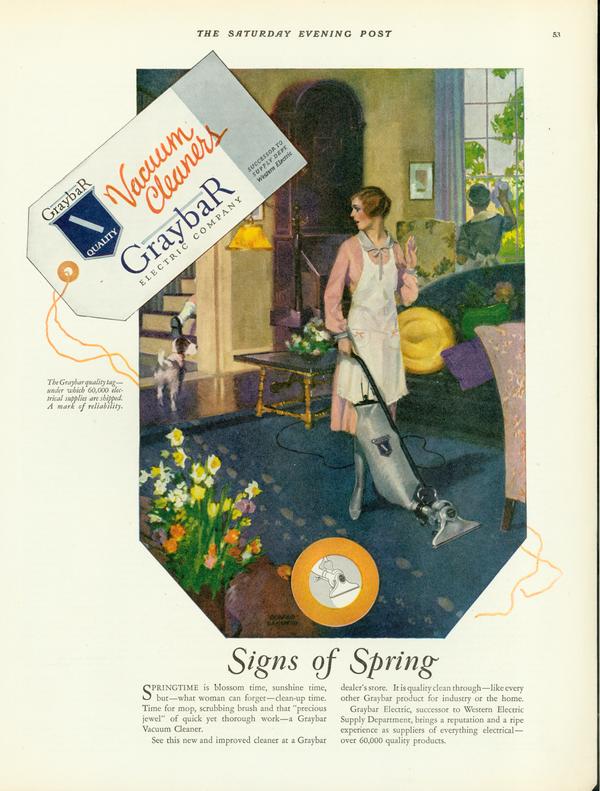 I was so pleased to see some early Spring flowers on the Hagley grounds this morning that not even this May 1926 advertisement reminding me to do my chores can spoil me on the season.
The Graybar Electric Company, a merchandiser of electrical equipment and household appliances, was founded in 1926 out of a supply division of the Western Electric Manufacturing Company after AT&T decided to restructure Western Electric in order to focus on supplying telephone equipment for its Bell telephone system. The company's name was an homage to the two principal founders of Western Electric, electrical engineers Alisha Gray (1835-1901) and Enos Barton (1842-1916). 
This advertisement, which appeared in The Saturday Evening Post, is part of Hagley Library's John Okolowicz collection of publications and advertising on radio and consumer electronics (Accession 2014.277), a collection of digital access copies of materials related to radios and similar household electronics dating from 1912 to 1980.
In addition to 141 issues of Philco News dating from 1945 to 1962, the collection includes industrial magazines, annual reports, trade catalogs, pamphlets, and coloring books representing fifteen radio and consumer electronic manufacturing companies, as well as advertising tear sheets from 150 regional, national, and international publications representing over 300 corporate advertisers.
You can visit this digital collection now by clicking here to visit the collection's page in our Digital Archive.