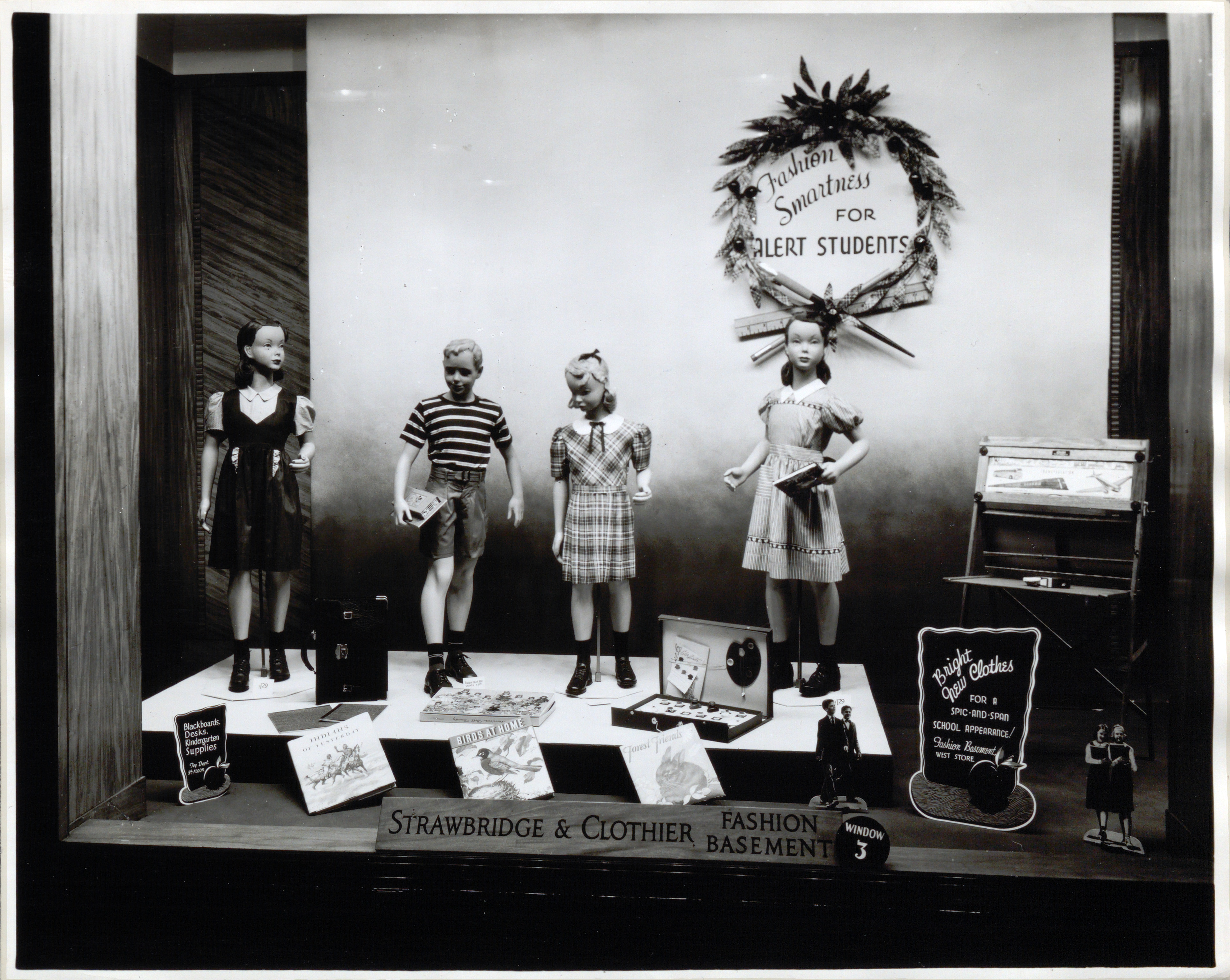 We've seen both beach weather and spring showers these past few days, but, make no mistake - Fall is coming and it is back to school season! To celebrate, we're sharing a 1943 photograph of a Strawbridge & Clothier department store window, taken at the company's Market Street location. The display urged passersby to find fashion smartness for alert students in the store's fashion basement (it is unclear where parents of dim-witted, inattentive students could find supplies).
This photograph is part of Hagley Library's collection of Strawbridge and Clothier photographs and audiovisual materials (Accession 1995.250), which documents the history of Strawbridge & Clothier, a family-owned major department store chain in the greater Philadelphia area.
The company was founded by Justus C. Strawbridge (1838-1911) and Isaac H. Clothier (1837-1921) in Philadelphia, Pennsylvania. It first opened on July 1, 1868, operating out of a storefront at 8th and Market Streets in Center City Philadelphia. The partners soon found success; the store was especially popular for its unusual policy of charging one advertised price for all customers for any merchandise. This was a rare practice at the time, and one informed by Strawbridge's and Clothier's shared Quaker faith.
In keeping with that faith, the founders also stressed service to its customers, community, and employees. For employees, the company established a relief association to administer health and death benefits; a savings fund society; an athletic association; the company magazine, Store Chat; a chorus; and the Quarter Century Club, which was made up of associates with twenty-five years of service or more. For a short while, the company even maintained a cottage in North Wildwood for women employees to vacation at the shore.
The company incorporated on February 14, 1922. That same year it also started its own radio station, WFI, which operated out of the store for thirteen years. Success had brought the need for a new building, and it was decided to remain at 8th and Market. Construction on the new store began in July of 1928. The thirteen-story, $10 million store was dedicated in October, 1932.
In the meantime Strawbridge & Clothier opened its first branch store at Suburban Square in Ardmore, Pennsylvania in 1930 and its second one in Jenkintown, Pennsylvania in 1931. While the Great Depression and the Second World War caused some strain on the company, it was in sound financial shape and made it through without any major losses.
With the growth of the suburbs in the post-war era, the company opened its third branch store in Wilmington, Delaware in 1952. But the period of rapid expansion for the company began in 1961 with the opening of the Cherry Hill Store in the first enclosed shopping mall on the east coast. More branch stores followed from the 1960s to the 1980s with a total of thirteen Strawbridge & Clothier department stores in 1993. In 1971, the company created the Clover division, a chain of discount stores not unlike Target stores. Clover was successful and in a little over twenty years, twenty-seven stores had opened throughout the Greater Philadelphia area.
Despite all of this growth, the landscape of the retail industry changed and Strawbridge & Clothier was sold to the May Company of St. Louis on July 15, 1996 ending 128 years of family ownership and operation. The department stores then conducted business under the name Strawbridge's although the signage for most of the stores remained Strawbridge & Clothier. The Clover stores were liquidated or sold. May was eventually bought by Federated Department stores in 2005 and all stores were either closed or converted into Macy's stores.
The library also maintains records related to the company in our collection of Strawbridge & Clothier records (Accession 2117) and holdings of Store Chat magazine (call number HD9959.S78 A115). To view a selection of materials from these collections online now, click here to visit these resources in our Digital Archive.