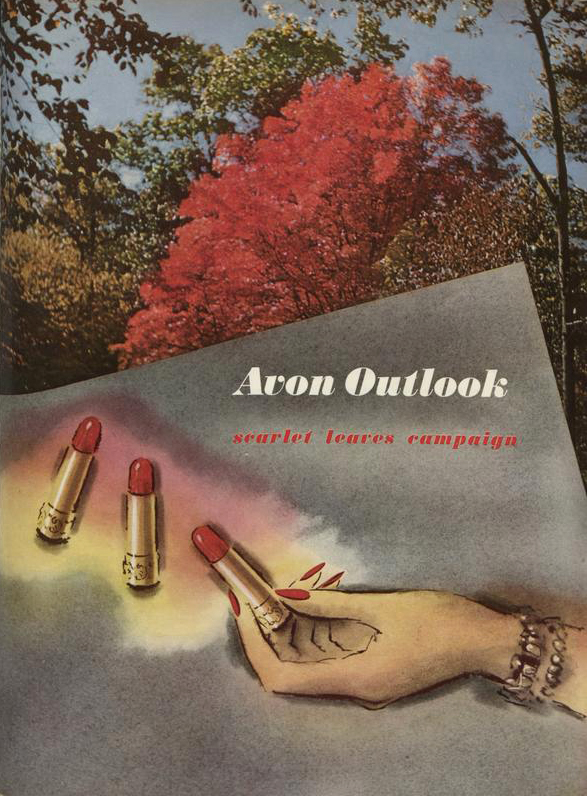 It's the first #FallFriday of the year, and as the workweek wraps up, I've got my mind on sweater weather, leaf-peeping hikes, and spicy hot chocolate (that's when there's whisky in it). What are you looking forward to this Autumn?
In honor of the equinox, here's an Avon Outlook cover advertising the company's September 1954 'Scarlet Leaves' Fall makeup campaign. Avon Outlook was a serial publication distributed to Avon sales representatives that contained motivational essays, updates on new and discontinued product lines, and instructional materials.
Avon Products, Inc., is one of the oldest direct selling companies in America.  It traces its origins to 1886, when David H. McConnell (1856-1937) bought the Union Publishing Company of New York City and started manufacturing perfumes to give away with his books.  He soon discovered that his customers were more interested in the fragrances than the books, and he decided to concentrate on selling perfumes. 
The business was renamed the California Perfume Company (CPC) in order to associate its products with the perceived beauty and novelty of the Golden State. From the beginning, CPC sold directly to the consumer through a national network of sales representatives​, primarily women, who were looking for economic opportunity and flexible part-time employment.  The representatives were independent contractors and not company employees.
During the late nineteenth and early twentieth centuries, CPC expanded its line of products to include cosmetics, household cleaners, food flavorings, and toiletries. Representatives sold CPC products throughout the United States, and the company's rapid growth led to the establishment of regional branch offices and warehouses.
In 1929, CPC introduced the Avon brand for its toiletries and cosmetics to modernize its image and rationalize its diverse product lines. According to promotional literature, the name Avon had been selected because the Suffern manufacturing site was thought by McConnell to resemble the English countryside around Stratford-​on-​Avon. CPC was officially renamed Avon Products, Inc. in 1939 to reflect the company's identification with its popular cosmetics and toiletry lines.
The Hagley Library's copies of Avon Outlook (and editions of the same under alternate names) are incomplete but run from 1905 to 1991. This publication is part of Hagley Library's Avon Products, Inc. records (Accession 2155), parts of which have been digitized for inclusion in our Digital Archives. The Avon materials in the Hagley Digital Archives is also composed of selected materials from our Published Collections Department and our collection of Avon Products Inc. photographs and audiovisual materials(Accession 1997.209).
This digital collection encompasses a range of materials such as advertisements, catalogs, representative's sales tools, and corporate documents intended to provide insight into the history of the company, its sales representatives, employees, and consumers. To view it online now, just click here.