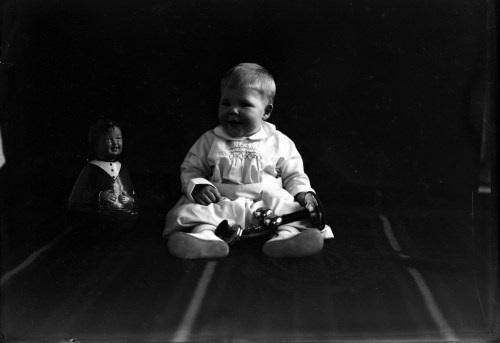 It's spooky season and oh no it's right behind you and it's looking at you, run, little baby, run.
We're relieved to inform you that young Thomas C. Marshall, Jr. (1885-1969) survived this uncanny February 18, 1925 encounter, with no apparent ill effect. Marshall grew up to be a steam automobile and railroad enthusiast, as well as an enthusiast of trapshooting and an avid photographer. He also became a dealer in and collector of Stanley Steamer cars, selling them from 1910 to 1920.
Thomas C. Marshall, Jr.'s family lived in the area now known as Yorklyn, Delaware since the mid-1700s. In 1890, Tom's grandfather, Israel W. Marshall, formed a partnership with his brother, T. Elwood Marshall, and Franklin Ewart. They purchased the former Garrett paper mill in Yorklyn, renaming it the Marshall Brothers Paper Mill. In 1897, Israel built a Victorian mansion, now known as Auburn Heights, on a hill overlooking the paper mill. This mansion has remained in the family, belonging first to Israel's son, T. (Thomas) Clarence Marshall, and later to his son, Thomas C. Marshall, Jr. The Hagley Library's collection of Thomas C. Marshall photographs (Accession 1990.270), which includes this glass negative image, primarily consists of images featuring the Marshall family, their homes and places of work, their relatives and friends, and views of sites in the Chester County, Pennsylvania and Delaware area. To view a selection of material from this collection online now, click here to visit its page in our Digital Archive.