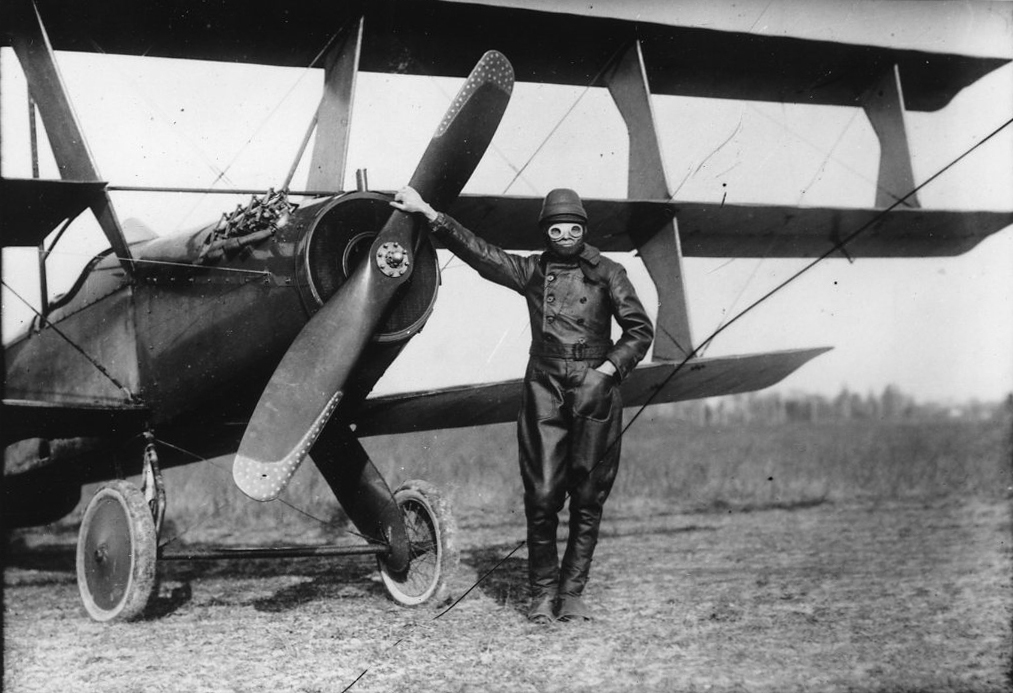 Let's start the week off with this fabulous photograph of aviation pioneer and inventor Lawrence Burst Sperry (1892-1923), seen here around 1918 with a tri-plane.
Lawrence was the child of Elmer Ambrose Sperry, Sr. (1860-1930), co-inventor of the gyrocompass and founder of the Sperry Gyroscope Company. Which is how this item came to find itself housed in Hagley Library's collection of Elmer Sperry photographs (Accession 1985.257). This collection, which documents elements of Sperry's life and career from 1847 to 1945, includes original materials, as well as copy work from other sources and images which show Sperry's inventions; there is some ephemera, family photos, employees, and views of the Sperry Company's Brooklyn drafting rooms.
Elmer Ambrose Sperry, Sr.'s career began while enrolled at Cornell University, where he developed an interest in electrical engineering and began working with a group of industrialists from Syracuse, New York, in order to construct an arc lighting system. By 1882 Sperry was already recognized as one of America's electrical pioneers.
In 1883, Sperry moved to Chicago where he established the Electric Light, Motor, and Car Brake Company. He found that he could not compete with the more established Edison and Brush Electric companies, so he began experimenting with electric coal-mining equipment. In 1886 he founded the Sperry Electric Mining Machine Company. During these years Sperry also developed an electric street car. After selling his patents to General Electric, he went to work for the company as a consultant.
In 1907, Sperry began to experiment with the gyroscope. Three years later, he founded the Sperry Gyroscope Company in Brooklyn, in order to develop, manufacture, and market marine gyrostabilizing devices. Working closely with the Navy, he developed the gyrocompass, ship stabilizer, and high intensity search-light. During the First World War, the Sperry Gyroscope Company became a major defense contractor, and Elmer Sperry sat on the Naval Consulting Board.
After the war, Sperry Gyroscope moved into aeronautics as it developed airplane stabilizers, gyrostabilized bombsights, and the aerial torpedo. At the time of his death, Sperry owned 332 patents and had forty-eight more pending. The earliest one for a steam engine dynamo dates from 1882 and in 1930, the year of his death, he was granted four patents alone.
Lawrence Sperry was also an inventor; he is credited with developing the first autopiloting system and with using a lightweight version of his father's gyroscope technology to develop an artificial horizon instrument still in use in the modern day.