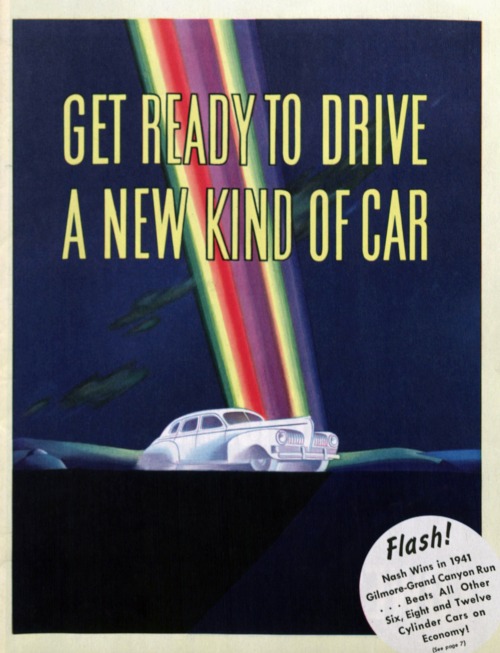 This #MotorMonday finds a new kind of car at the end of the rainbow; the Nash 600. This model was the first mass-produced American car featuring unibody construction. Pioneered by European manufacturers like Lambda in the early 1920s, unibody construction consisted of a manufacturing design in which the body of the vehicle, its floor plan, and its chassis all form a single structure. This allowed for a lighter vehicle with better fuel economy, as well as a vehicle that was able to absorb crash impacts more safely for passengers.
This approach to automobile construction would later become common among American automobile manufacturers, as would seat-belts, which Nash begin including in 1949, making them an early adopter of this technology as well. Nash's innovative 1936 u2018Bed-in-Car' system, however, yet remains to achieve the widespread acclaim of its other achievements.
The ca. 1941 catalog is part of Hagley Library's Z. Taylor Vinson collection of transportation ephemera (Accession 20100108.ZTV). For over sixty years, Zachary Taylor Vinson (1933-2009), a senior lawyer with the National Highway Traffic Safety Administration, 1993-1995 president of the Society of Automotive Historians, and 1995-2009 editor of Automotive History Review amassed a large and comprehensive collection of printed material documenting on the history transportation, particularly automobiles.
Our Digital Archive offers a small selection of materials from the Vinson collection documenting the history of the automobile and transportation. Click here to view them online.