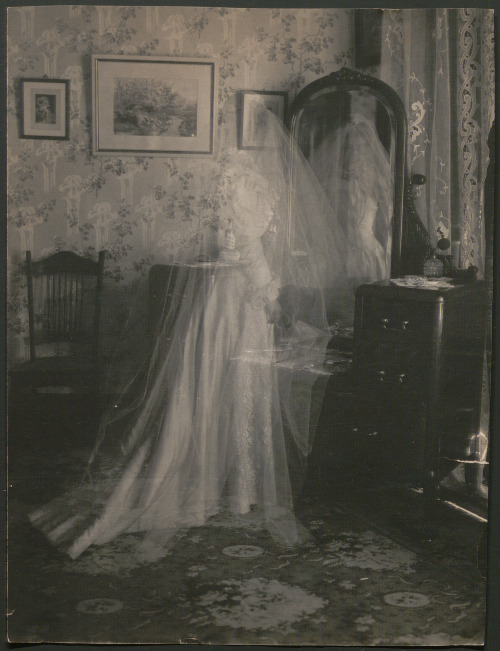 Our celebration of all things that go bump in the night continues in this lead-up to Halloween. This photograph of a phantom bride was likely created using either a double exposure or pinhole camera technique.
It was possibly created at some point in the 1890s, and might be of Lillian Durban (1875-1952), shortly before or shortly after she became Lillian Maxim in 1896. It was definitely disinterred from the Hagley Library's Hudson Maxim collection of graphic materials (Accession 1996.312), a collection of photographs and images documenting the life of Hudson Maxim (1853-1927). Maxim was an inventor and chemist best known for his work in the development of smokeless gunpowder and military explosives.
This image can also be found in our Digital Archive, in a digital collection that combines multiple physical collections from the Library's holdings related to Hudson Maxim.
These online materials chronicle Hudson Maxim's life and work from the late 1880's, when he began working for his eldest brother, the inventor Hiram Stevens Maxim (1840-1916), to the final years of his life. They document not only his scientific work, but also his collaborations with the du Pont family and company, as well as his personal business affairs and family life.
The digital collection also includes many materials from his second career as a public speaker and popular personality, known for expounding at length on a wide variety of topics ranging from scientific and military topics, to poetry, economics, social issues, public affairs, and local politics in his home of Hopatcong, New Jersey. Click here to visit the collections page in our Digital Archive.