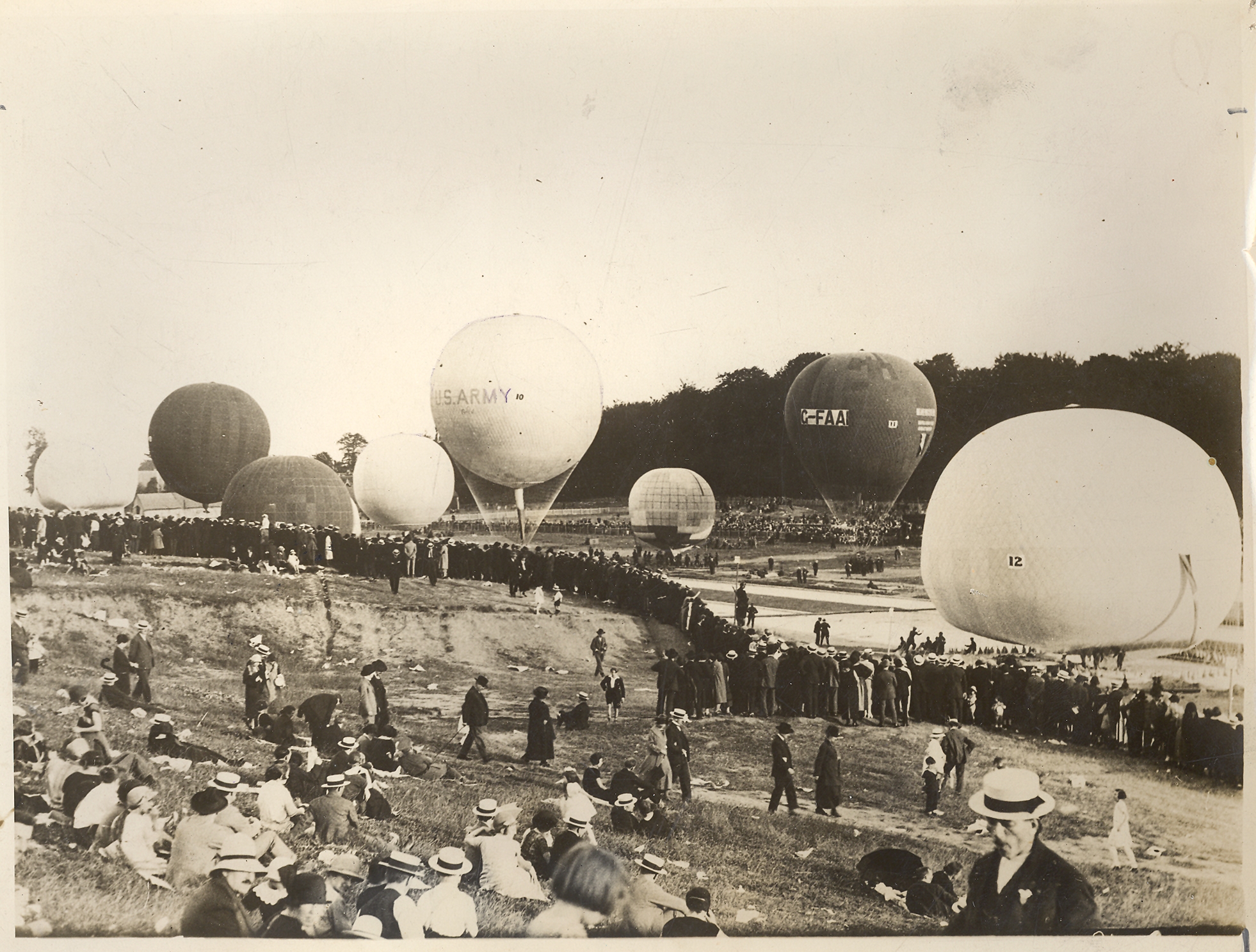 This past weekend marked a historic highlight in aviation history. One June 4th, 1783 the brothers Joseph-Michel (1740-1810) and Jacques-Étienne Montgolfier (1745-1799) conducted the first public demonstration of a new technology. While the two brothers earned their living running a paper factory they had inherited from their father, they both collaborated on scientific experimentation in their spare time.
On this historic date, the two launched the world's first hot air balloon from a marketplace in Annonay, France. The unmanned balloon achieved a height of about 3,000 feet and traveled for ten minutes before landing about a mile and a half away. The two continued to experiment with the technology, and, on November 21, 1783, a Montgolfier balloon sent the first manned untethered balloon flight aloft.
141 years later, their contribution to aviation history made this image possible. This June 10, 1925 photograph shows the start of that year's Gordon Bennett International Balloon Race. Text associated with the image reads: "While judges and contestants are still wrangling over the winning of the Gordon Bennett International Balloon Race, this photo, just received from Europe, shows the start of the race from Brussels, Belgium. An American entrant landed on the deck of a steamer at sea. A British entrant, the 'Elsie,' (second from right) was run into by a train and destroyed after making a forced landing near Etales, France.'
This item is part of Hagley Library's collection of Lammot du Pont, Jr. collection of aeronautical photographs (Accession 1975.360). While the du Pont family is more commonly associated with the chemical corporation that bears its name, Lammot du Pont Lammot du Pont, Jr. (1909-1964) was best known for his work as Assistant Vice President of the Wilmington Trust Company, a job he began working at in 1931. Prior to his employment there, however, he worked for the Fokker Aircraft Corporation, and maintained an interest in aviation.
This collection consists of Lammot's large treasury of books, manuscripts, prints, drawings and photographs documenting the history of aviation, and primarily consists of images of aircraft which date from 1915 through 1950. Nearly all of the photographs are news service images like this one, many accompanied by original caption information. There are also prints and lithographs of early aircraft and balloons (dirigibles) which date as early as the 1780s. To view a selection of materials from this collection online now, click here to visit its page in our Digital Archive.