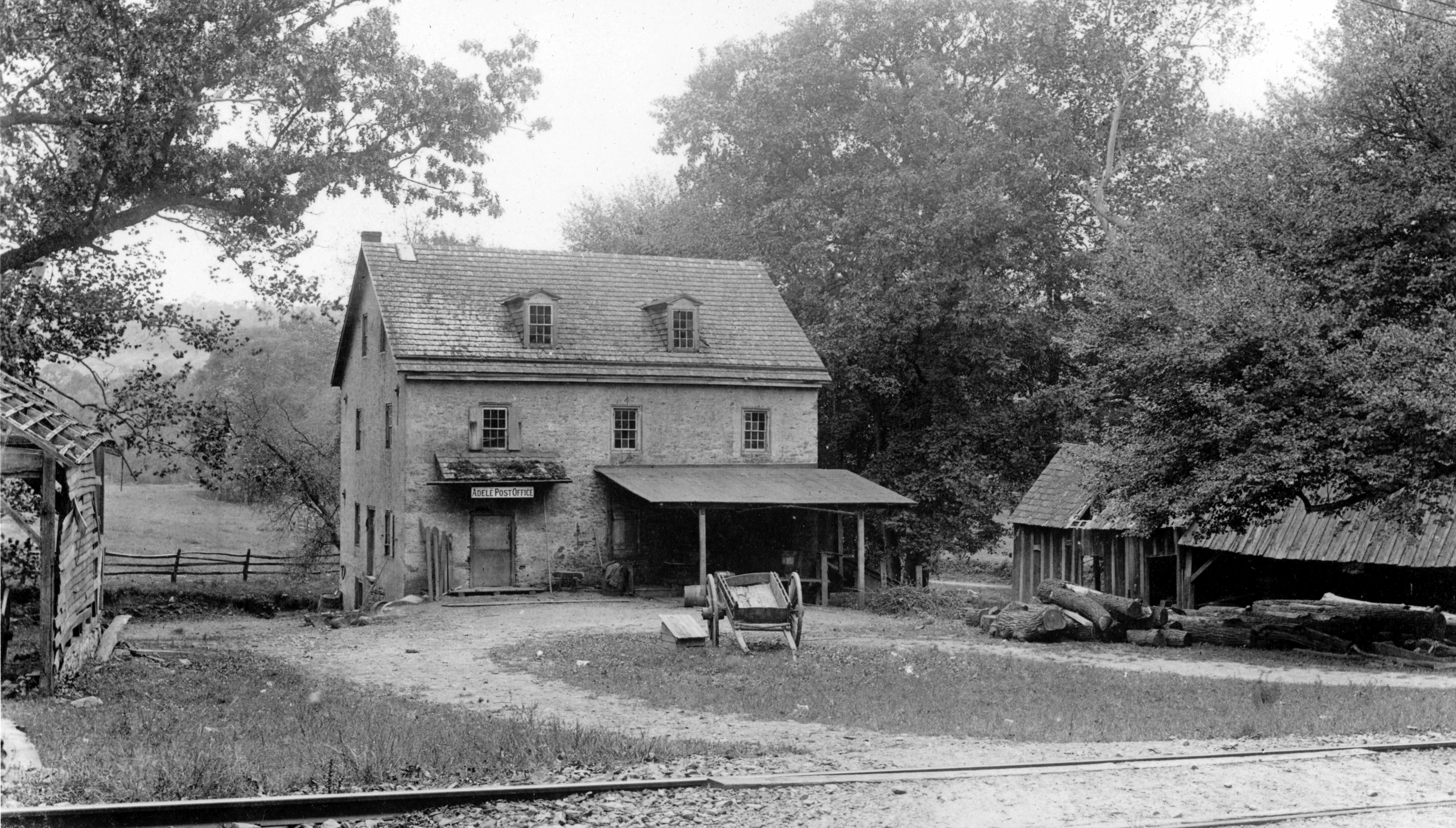 This photograph shows the Adele Post Office in Manoa, Pennsylvania, ca. 1900. The short-lived post office opened in July 1892 on the site of a mill on Darby Creek, and was operated by Augustus B. Leedom, who was also the proprietor of the mill, until May, 15, 1901.
The post office was named after the daughter of Congressman John B. Robinson, who was instrumental in establishing the post office to serve the area of South Manoa.Today, the site of the post office is in the Manoa neighborhood of Havertown near the intersection of Lawrence Road and West Chester Pike.
This image is print number 65 in a series of photographs documenting sites in the Philadelphia and West Chester area that lay along the rail lines acquired by the Red Arrow Lines rail service, which now make up our Red Arrow Lines photograph collection (Accession 1972.438).
Red Arrow Lines was a division of the Philadelphia Suburban Transportation Company, a company formed in 1936 by the merger of two transportation companies, the Philadelphia & West Chester Traction Company and the Philadelphia & Garrettford Street Railway Company, both owned by Merritt H. Taylor.
Taylor's father, A. Merritt Taylor, had acquired the Philadelphia & West Chester Traction Company in 1899, and organized the Philadelphia & Garrettford Street Railway Company in 1904. The Taylor family expanded these networks of transportation into a large network of buses, streetcars, and high-speed rail that connected Philadelphia's suburbs to the city.
Over the 1960s, however Merritt H. Taylor, Jr.'s unwillingness to allow the Philadelphia Transportation Company to join competing companies in public-private regional transportation compacts that consolidated services or accepted public regulation in exchange for public subsidies and other benefits led to increased expenses, revenue losses, and reduced ridership.
In 1970, the company's most profitable asset, the Red Arrow division was sold to SEPTA (the Southeastern Pennsylvania Transportation Authority, formed in 1963). The Philadelphia Transportation Company was then renamed the Bryn Mawr Group, Inc. and became a Florida real estate company