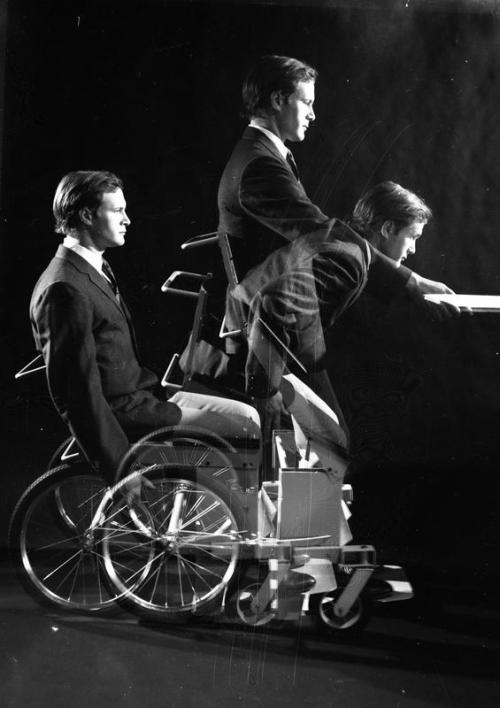 In recognition of International Day of Persons with Disabilities day, an international observance promoted by the United Nations since 1992, we're sharing this design prototype for a standing wheelchair, created by Rhode Island School of Design student Peter W. Bressler around 1968.
The standing mechanism was triggered by the user lifting the armrests of the chair, which triggered spring-assisted mechanisms that raised and tilted the chair's seat while also adjusting the footrests. The chair could be returned to a seated position by moving the armrests back to their usual position.
This photograph is part of Hagley Library's Marc Harrison photograph collection (Accession 2005.255). When Harrison was eleven years old, he suffered a severe brain injury due to a sledding accident in the Bronx, New York. As a result of the accident, he had to relearn functions such as walking and talking.
As a working adult, Harrison became an industrial designer, and used this event and the years of rehabilitation that followed, with the insight and motivation to conduct pioneering work in the developing field of universal design, an approach to design whose principles prioritize accessibility for people regardless of age and ability in product and environment creation. On an industry-wide scale, the origin of these concepts can be traced to the rehabilitation engineering and assistive technologies that were developed during and after World War II to meet the needs of veterans with disabilities.
To see other items in the Hagley Library's collections related to universal design, visit the Universal Design collection in our Digital Archives by clicking here. To see other digitized items from the Hagley Library's March Harrison photograph collection and Marc Harrison papers (Accession 2193), click here.