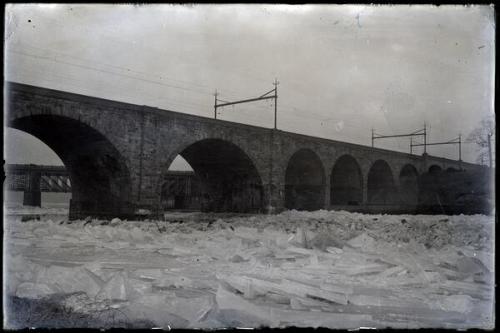 As the snowflakes continue to fall on the scenic grounds of the Hagley Museum and Library, we're continuing our wintry weather theme with this glass negative image of the Reading Railroad Schuylkill River Viaduct in Philadelphia, Pennsylvania.
The image comes from a small collection of thirty-five glass negatives depicting scenes from Wissahickon Valley Park, historically part of the Fairmount Park system, prior to a 2010 merger of the city's Fairmount Park Commission and the Department of Recreation. This park is located in Northwest Philadelphia, and includes Wissahickon Creek from its confluence with the Schuylkill River, and extends to the northwestern boundary of the city with eastern Montgomery County.
While the images in this collection are undated, it is estimated that they were taken no earlier than 1908, based on the presence of what appears to be Walnut Lane Bridge, completed in October of that year, in one of the images. The Schuylkill River Viaduct was completed in 1856, while the Falls Bridge, a steel Pratt truss bridge visible in the background of this image, was completed in 1895.
To view other images from our Fairmount Park glass plate negatives (Accession 1971.597) collection, click here to visit its page in our Digital Archive.