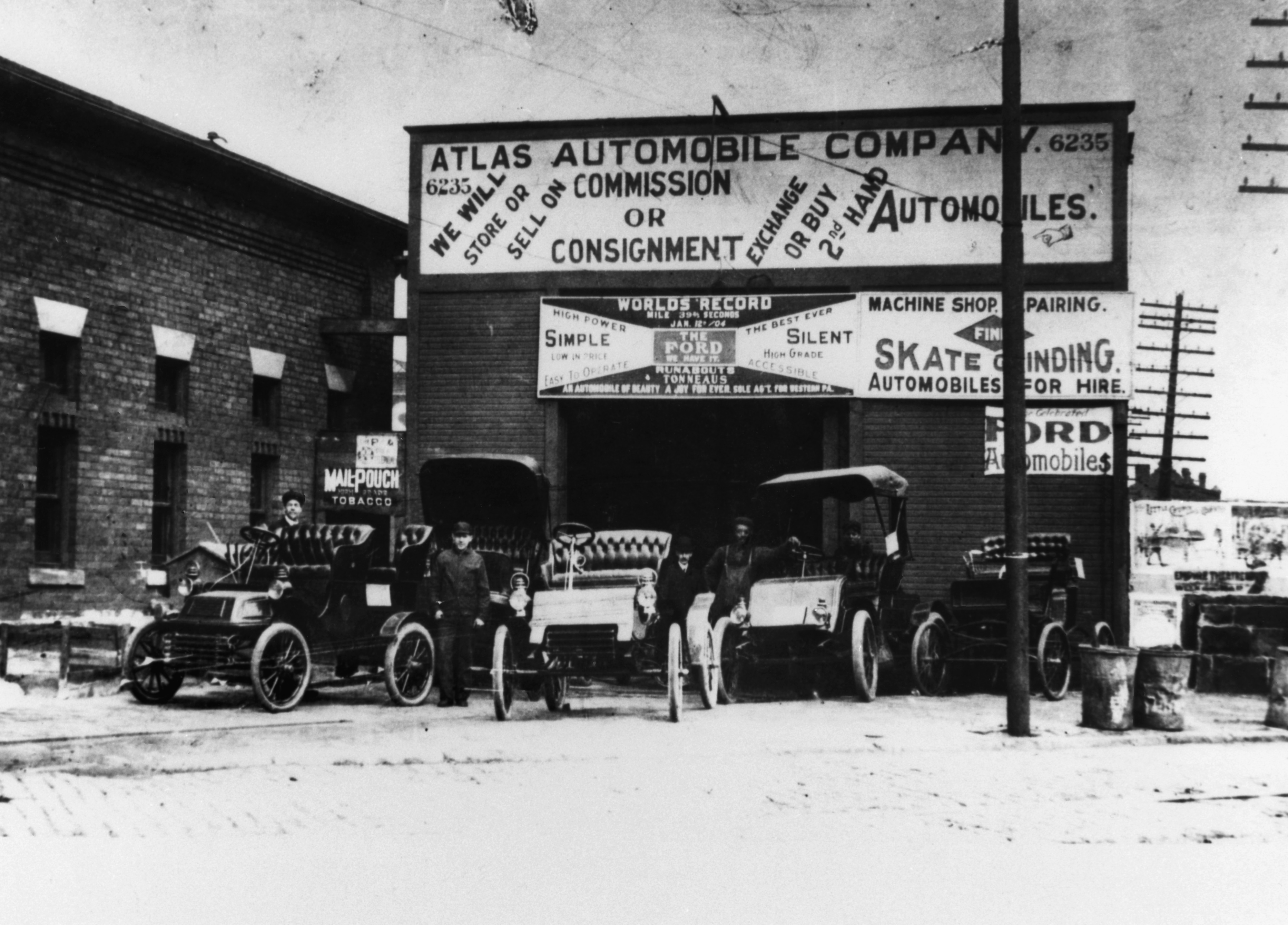 Take your pick of early autos this #MotorMonday with a visit to the Atlas Automobile Company.
The Atlas Automobile Company was founded by Andrew Kirkpatrick and William H. La Fountain, who became the sole owner after Kirkpatrick left the company on July 31, 1904. The dealership and machine shop operated out of a storefront at 6235 Penn Avenue in Pittsburg, Pennsylvania between September 1903 and September 1906.
A note on the reverse of this photograph detailed that "In the early days of the horseless carriage dealerships such as this one … carried automobiles made by several manufacturers. This dealership gave the Ford name big play on its building and put a Model A right in the center of its lineup of new offerings". Atlas sold both new and used cars; the October 26, 1905 issue of The Automobile noted that, at the time, the company did "the largest business in second hand automobiles of any concern in Pennsylvania".
After September 1906, the dealership relocated to a shop at 5850 Ellsworth Avenue in Pittsburgh's East End, which it advertised as "the only fireproof garage in the state of Pennsylvania". In partnership with William G. Hughes and Alfred F. Bennet, La Fountain used this new location as a venue to not only sell, but also to manufacture automobiles. For one year, this iteration of the Atlas Automobile Company also produced a four-cylinder automobile in a touring car or runabout model.
While La Fountain remained an active part of Pittsburgh's automobile dealership community until at least January 1914, when he served as a manager for the Pittsburgh Automobile Dealer Association's 8th annual automobile show at Motor Square Garden, the Atlas Automobile Company appears to have ceased operations for good when it vacated its garage on September 1, 1908.
This photograph is part of Hagley Library's collection of Chamber of Commerce of the United States photographs and audiovisual materials, Series II. Nation's Business photographs (Accession 1993.230.II).  The Chamber of Commerce of the United States of America formed in 1912 with the purpose of advising the government on issues facing industry and business throughout the country. The majority of images in this digital collection are photographs that were taken for the Chamber's publication, Nation's Business.
Published from 1912 to 1999, the monthly magazine proved invaluable in communicating the Chamber's messages to business and government, and the magazine featured images by many of the country's most prominent photographers. This collection has not been digitized in its entirety, but you can view a selection of images from it online now in our Digital Archive by clicking here.