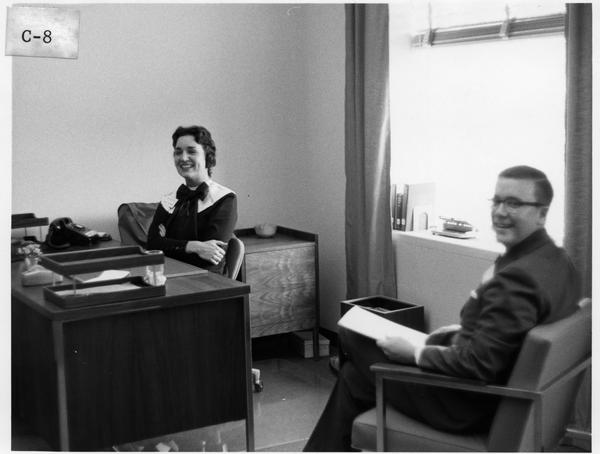 Today's featured photo hits close to home ... on this date, July 18, in 1961, the collections of the Longwood Library completed their move to the newly constructed Eleutherian Mills Historical Library (later renamed Hagley Library in 1984). Movement of the collections took four days to complete.
The Longwood Library was located in the Peirce-du Pont House on the grounds of Longwood Gardens. It was created by Pierre S. du Pont, who brought together du Pont family collections and manuscripts, works related to the family's history, and over 40,000 volumes of reference works with an emphasis on business and industrial history.
The Longwood Library and the Eleutherian Mills-Hagley Foundation began coordinating a consolidation of their resources a few years after the latter organization was founded in 1952. The project was delayed until a suitable library building, a gift from the Longwood Foundation, could be completed on the grounds of the Eleutherian Mills property, where E.I. du Pont first established the family's black powder manufactory in 1802.
Construction began on the Eleutherian Mills Historical Library in 1959. Work was done by the Baton Construction Company of Philadelphia under the supervision of the architectural firm Voorhees, Walker, Smith, Smith & Haines of New York.
This photograph was taken on the day of the new library building's dedication on October 7, 1961. It shows former Hagley Fellow Edward Ezell and Hagley Museum receptionist Betty Foster. To view more photographs and materials from our Eleutherian Mills Historical Library Dedication audiovisual material (Accession 2011.324) collection, click here to view the collection's page in our Digital Archive.