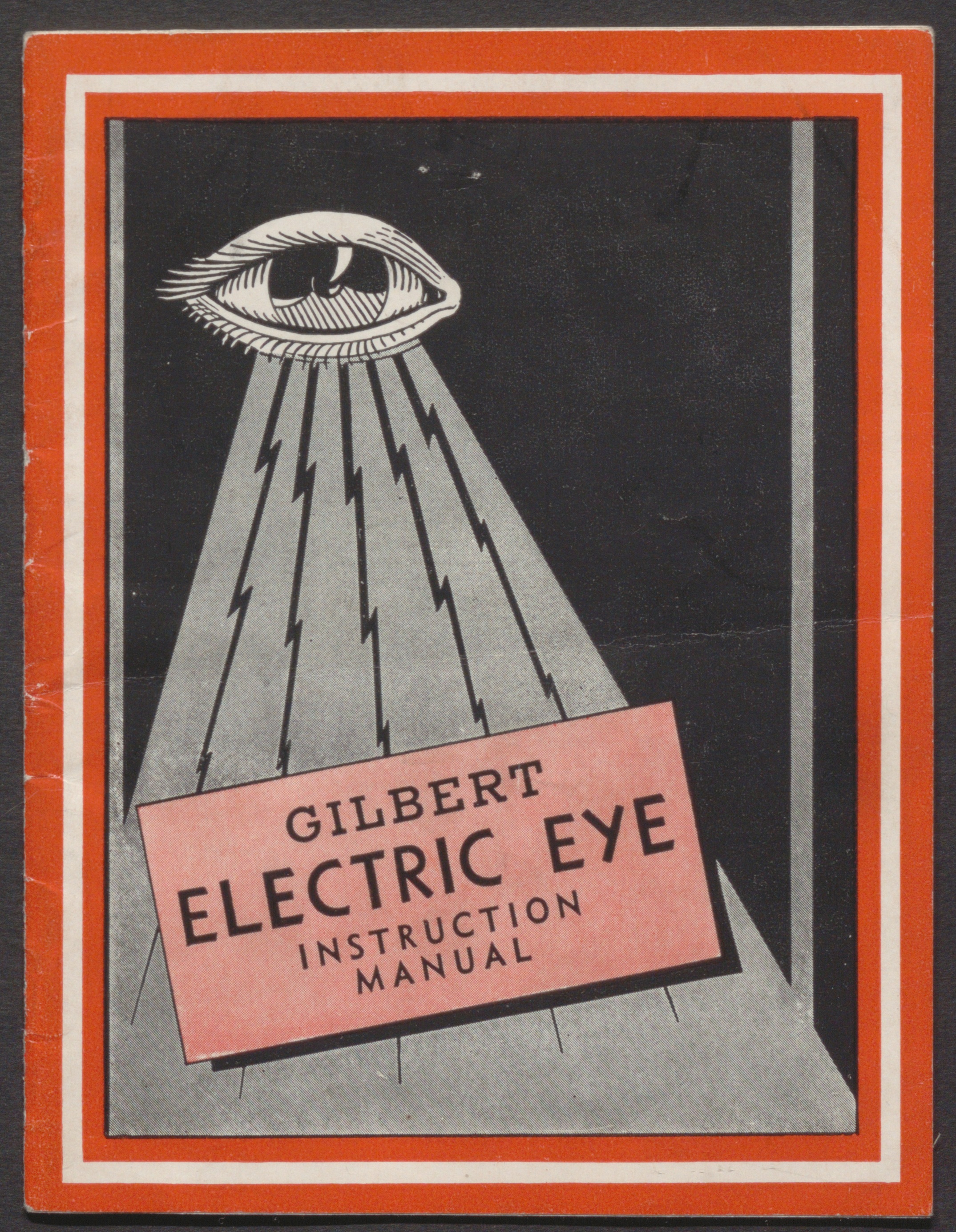 We're bringing the "mysteries of electrical action" to light this #TechTuesday with the cover of the Gilbert Electric Eye Instruction Manual. This pamphlet was created in 1935 by the A.C. Gilbert Company of New Haven, Connecticut, and outlined various uses for the company's photodetectors, which included turning household electronics on and off, operating parking garage alarms, a sun-controlled alarm clock, and controlling illuminated signs.
The A.C. Gilbert Company was once one of the nation's largest toy manufacturers. Founded in 1909 by Alfred Carlton Gilbert (1884- 1961) as the Mysto Manufacturing Company, the company was best known for originating the classic Erector Set, but also produced popular lines of model trains, chemistry sets, and inexpensive scientific equipment for young people (including a Geiger counter kit with radioactive samples in the 1950s).
Photodetectors were introduced in the 1930s, and were first put to use for purposes like highway vehicle counters, alarm systems, automatic camera systems, and industrial manufacturing. General Electric's photodetector, marketed as the Magic Eye, was introduced in 1931 for use in hospitals, where they served as a component in automatically operated doors.
Similar systems became commonplace in the last third of the 20th century for use in automatic door systems, door safety systems for garage doors, motion detectors, and other uses. Gradually, however, older models of photodetectors became replaced by newer, more high-tech photovoltaic cells.
This catalog is part of Hagley Library's RCA Victor Camden/Frederick O. Barnum III collection (Accession 2069). For over fifty years the Radio Corporation of America (RCA) was one of the country's leading manufacturers and vendors of radios, phonographs, televisions, and a wide array of consumer and military electronics products.
This collection was largely salvaged by company historian Frederick O. Barnum III, who recovered most of the materials in the collection from the abandoned photo lab on the 4th floor of Building 10 of the RCA Camden Plant, after the plant had been vacated and abandoned by successor company Martin Marietta Corporation in April 1993.
Barnum later donated two more groups of material to Hagley for the collection in 1993 and 1994. These additions were joined by the files of the previous company historian, B.L. Aldridge, and the Secretary's Contract Files, which were donated by an individual who salvaged them from the company's defunct "Hall of Progress" exhibit in Cherry Hill, New Jersey.