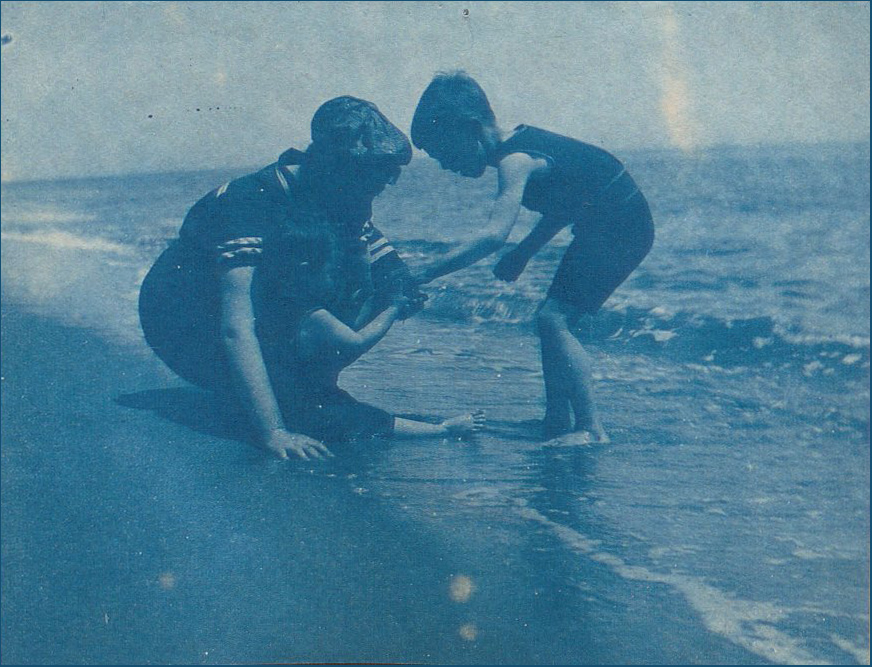 Today's post is an homage to summer weekends at the shore. This ca. 1890 cyanotype image is sourced from a photograph album created by Louis Edward Levy (1846-1919) and Max Levy (1857-1926), two brothers whose parents immigrated to the United States from Bohemia in 1854.
After studying and working in the fields of architecture, mathematics, astronomy, and microscope photography, the brothers worked together to found a photoengraving business in Baltimore in 1875. In 1877, they moved to Philadelphia and reorganized the firm as the Levytype Company. Here, they formally introduced their invention of a new photochemical engraving process, jointly patented on January 4, 1875, which they called "Levy-type".
Other inventions followed, including the engraved glass grating known as the Levy line screen. Invented in 1887, these were the first commercial halftone screens, which became universally used for producing half-tone photoengravings, and are still an industry standard to this day. This innovation was followed by the acid blast, or etching machine, in 1897 and the etch-powdering machine in 1901. In 1900, the firm was renamed the Graphic Arts Company, and the brothers added a printing and publishing department to their business.
Outside of their work in the photography industry, the brothers were prominent members of the Philadelphia Jewish community. Most notably, Louis was the founding president of the Association for the Protection of Jewish Immigrants, known today as HIAS Pennsylvania, and wrote extensively on immigration related issues.
The Louis E. and Max Levy photograph album (Accession 1976.252) contains personal cyanotype photographs taken by the brothers of their homes, travels, friends, and family. Included are scenes from Philadelphia, Boston, Roxbury, Dedham, Concord, Northboro, and Nantucket, Massachusetts; snapshots of children and other people; and various interiors. To view this album online now, click here to visit its page in our Digital Archive.