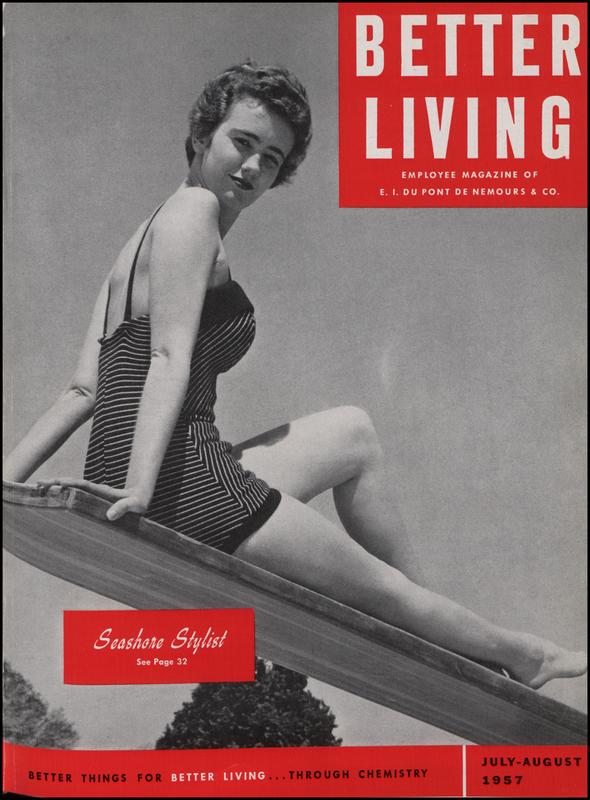 Today's #WorkerWednesday features a summer ready employee of the DuPont Company. This July/August 1957 issue of Better Living magazine featured Barbara Morrow, a product information specialist from the company's Wilmington headquarters.
Morrow handled consumer and trade inquiries for the Textile Fibers Department, but for this issue, she modeled a "fashion secret for longer vacations"; summer clothing made of the company's "easy-care fabrics of man-made fibers". The bathing suit in this photograph was made with a blend of wool and DuPont's Orlon fibers.
Better Living was a DuPont employee magazine created and published by the company's public relations department. The magazine featured the company's popular advertising slogan "Better Things for Better Living...Through Chemistry."
In keeping with this branding, its issues featured photojournalistic essays celebrating DuPont products' contribution to improving American standards of living, features depicting DuPont employees at work and at leisure, updates on DuPont activities at home and abroad, and articles extolling free market values and the role of citizen consumers in postwar America. To view the full run of the publication, call number f HD9651.9.D94 A14 in Hagley Library's published collections, dating from 1946 to 1972, click here to visit its page in our Digital Archive.