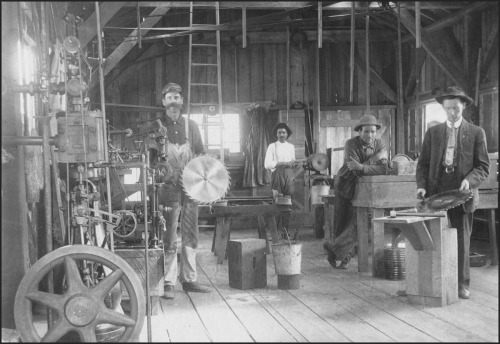 Today's #WorkerWednesday post brings us inside the tool room of the Hoopes Brothers & Darlington sawmill in Brooksville, Florida. A note on the reverse of this ca. 1907 photograph identifies the person on the far right asFrank Orville Reagan(1869-1937), the son of Owen Wily Reagan(1847-1909), the sawmill's manager.
The company that owned the mill, Hoopes Brothers & Darlington, began in West Chester, Pennsylvania in 1867 as a manufacturer of wooden spokes for wheels. By the 1880s it had become one of the largest wooden wheel makers in the United States, with mills and timber harvesting operations established throughout the southern United States.
The mill seen here was established in 1906. Hoopes Brothers & Darlington had originally established their Florida operations in nearby Ocala in 1899, but relocated after exhausting local timber supplies and to take advantage of cheaper railroad freight rates. Owen Wiley Reagan had also managed the Ocala mill, with his son Frank working as assistant manager. After his father's death in November 1909, Frank took over operations of the Brooksville mill.
This photograph is part of Hagley Library's collection ofHoopes Brothers & Darlington, Inc. photographs (Accession 1969.099). This collection consists of miscellaneous images from the company, largely dating between 1900 and 1948, as well as advertising material and letterheads.To view the collection online now in our Digital Archive, click here.