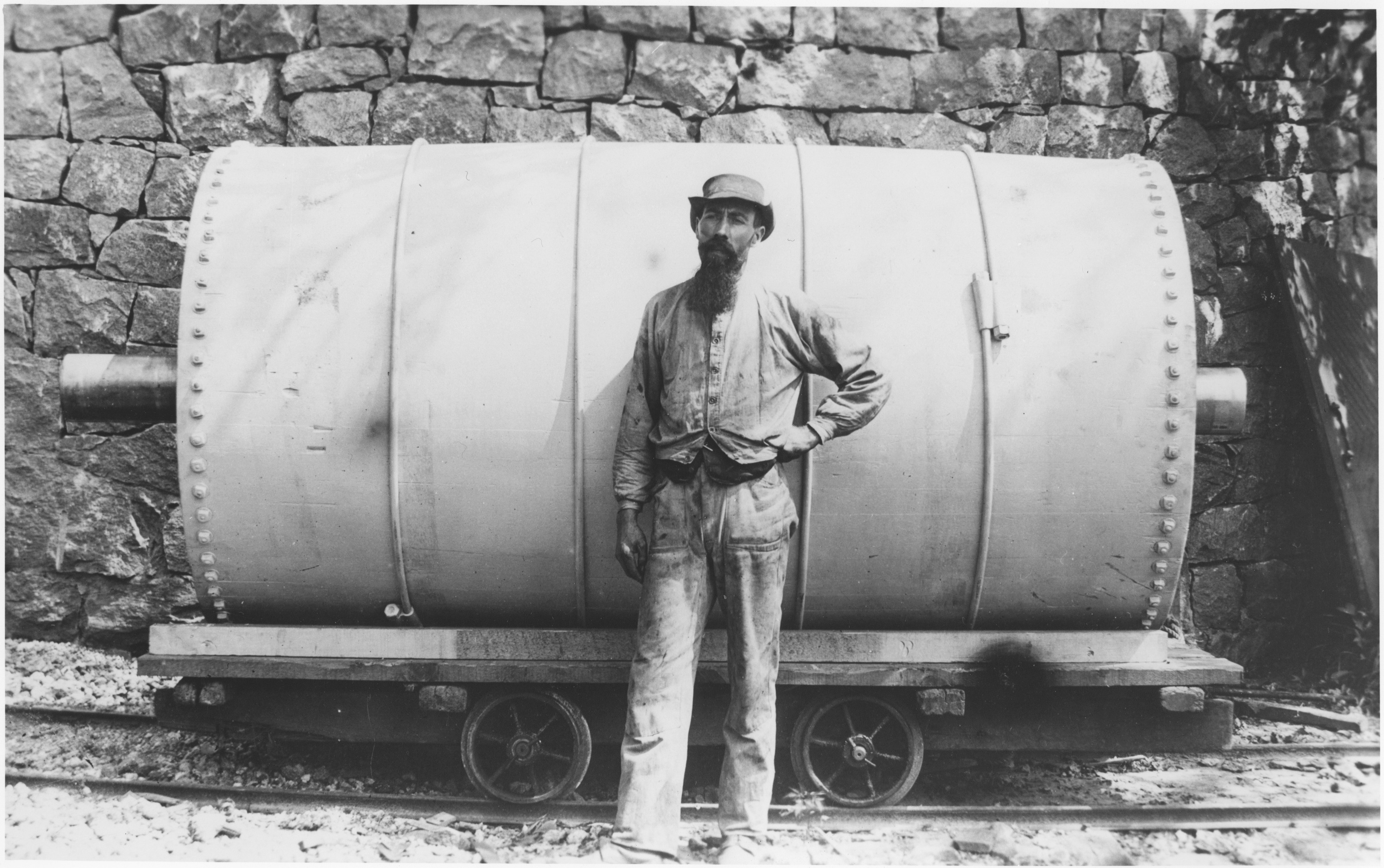 Today's #WorkerWednesday post introduces Moses Campbell, seen here in the Hagley Yard with a glazing barrel, which was used by the workers of the E.I. du Pont de Nemours Powder Company for rounding the edges of gunpowder grains.
Campbell was born in Dunfanaghy, Ireland on June 16, 1852. He emigrated to the United States in 1870. Ten years later, in 1880, he was working as a farm laborer. By 1885, Campbell was he had joined the workers in the Hagley Yards of the E.I. du Pont de Nemours Powder Company, where he would remain for the rest of his working life.
At the time Campbell hired on to the powder yards, he was newly married Esther Ellen Maxwell, the daughter of a local family. The couple had married in 1880 and produced two sons and three daughters during their marriage, though one of the girls died shortly after her birth in 1886. Esther died in June 1891 at the age of 32, three months after the birth of their last child.
By 1909, Campbell was working for the E.I. du Pont de Nemours Powder Company as a yard foreman; he was present at the August 9th black rifle powder explosion of mill No. 8ff that year that killed his coworker, John Mott and injured Campbell, along with coworkers William McGonigle and Robert Hunter. This position was still listed as his occupation at the time of his death, attributed to "cancer of liver & stomach", on May 4th 1917, at the age of 44. Campbell was buried with his wife in Green Hill Presbyterian Church Cemetery, Wilmington, Delaware.
This photograph is undated, but would have been taken during Campbell's time working in the Hagley Yard. It was captured by Pierre A. Gentieu (1842-1930), a long-term employee of E.I. du Pont de Nemours & Company. Gentieu was also a photographer and artist, and the du Ponts allowed him to photograph the family, their employees, and the built world and daily lives that made up their lives along the Brandywine.
His work, now the Hagley Library's collection of Pierre A. Gentieu Brandywine River Valley photographs (Accession 1970.001), provides an invaluable photographic record of the company's Brandywine Mills at the turn of the century. To view the collection online now in our Digital Archive, click here.