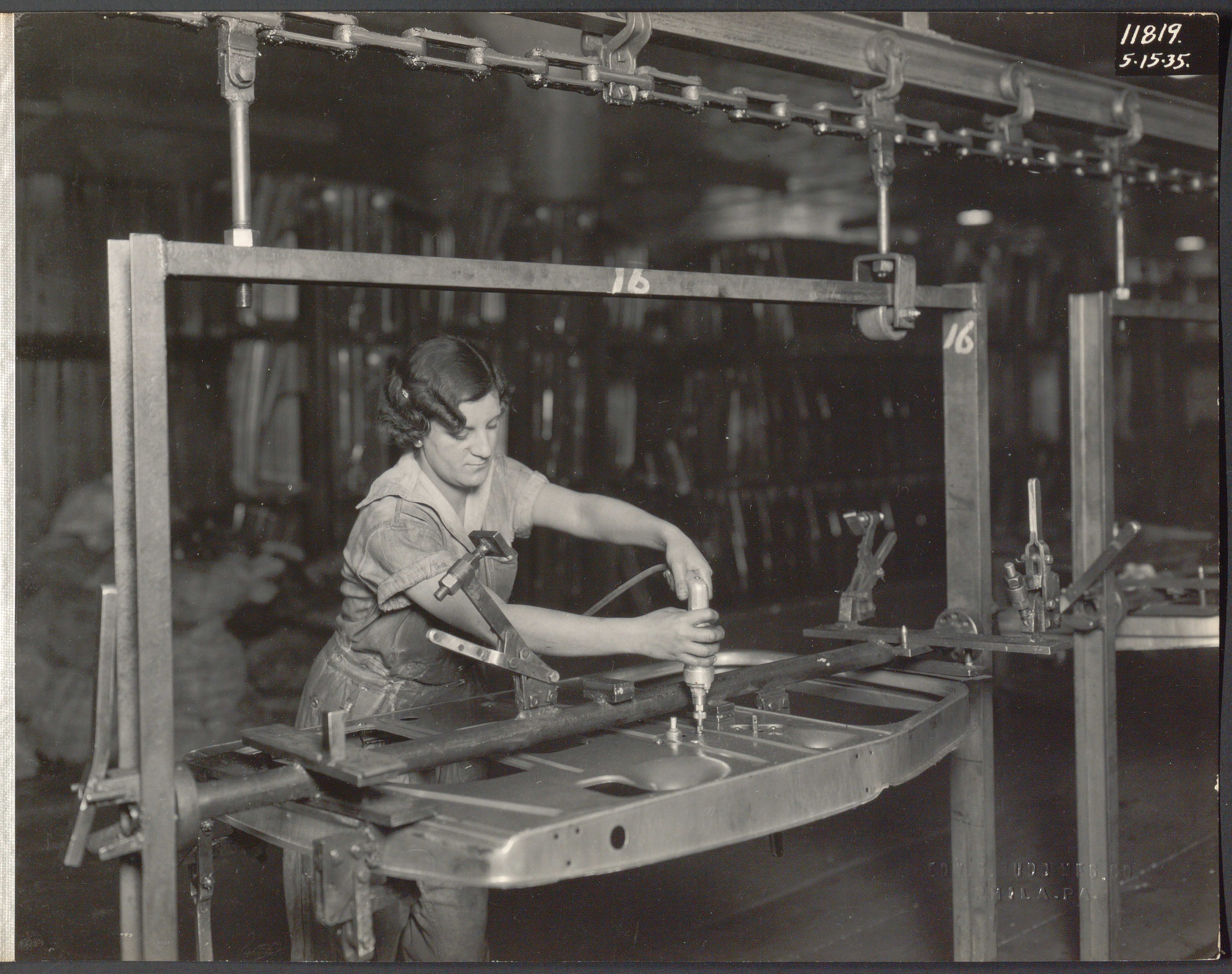 Today's #WorkerWednesday post takes us to the floor of the Budd Company, where this May 15, 1935 photograph captured an image of a worker applying fasteners to metal door panels at one of the company's plants in Philadelphia, Pennsylvania.
The Budd Company was a manufacturer of steel automobiles, passenger rail cars, and other transportation products. The company began in Philadelphia in 1912 as the Edward G. Budd Manufacturing Company, which specialized in the manufacturing of all-steel body automobiles. In 1925, the expanding company purchased a plant in Detroit and began to move into the European market. But during the Great Depression, Budd was forced to develop new products and search for other markets. In 1931, Budd built the first stainless steel airplane, and in 1934 the company began to manufacture streamlined stainless steel passenger railroad cars. 
The company remained independently owned until 1978, when Budd became a subsidiary of the German steelmaker Thyssen AG. Thyssen restructured the auto-parts side of the business and sold the poorly-performing railcar business to Bombardier, Inc. of Canada in 1987. The company's original factory site on Red Lion Road in Philadelphia was redeveloped in the 1990s, and Budd ended its long presence in Philadelphia by closing its Hunting Park Avenue plant in 2002. In 1998, Thyssen merged with Krupp, and Budd became a division of ThyssenKrupp Budd before being sold to Martinrea International in 2006. The Budd Company filed for bankruptcy in 2014.
This photograph is part of Hagley Library's collection of Budd Company digital photographs (Accession 2020.213), a digital companion to our collection of Budd Company photographs (Accession 1999.228). While you can view images from both collections online now in our Digital Archive by clicking here, the Budd Company photographs collection resides at Hagley Library and has not been digitized in its entirety. The Budd Company digital photographs collection's physical analogues are kept by a private collector, but have been digitized for online access.