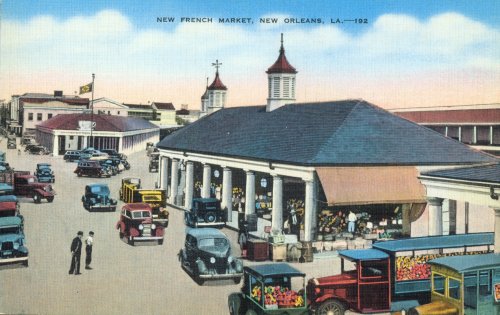 We're celebrating Mardis Gras today with this ca. 1940 postcard showing the recently renovated famous French Market in New Orleans, Louisiana's French Quarter.
This covered market was built around 1813 on the site of an older market run by Chapitoulas, Choctaw, Chitimacha, and Houma people prior to European colonization of the area. This undated postcard shows the market shortly after Works Progress Administration renovations were completed in the 1930s. The largely rebuilt "new" market was formally dedicated in 1938.
This postcard comes from Hagley Library's collection of Postcards of motels, roadside attractions, restaurants, etc. in the United States (Accession 2007.214). This collection comprises 130 postcards dating from approximately 1930 to 1960. The postcards depict motels (including motor courts and cabins), restaurants, roadside attractions, and scenic views from across the United States. To view it online now, click here.