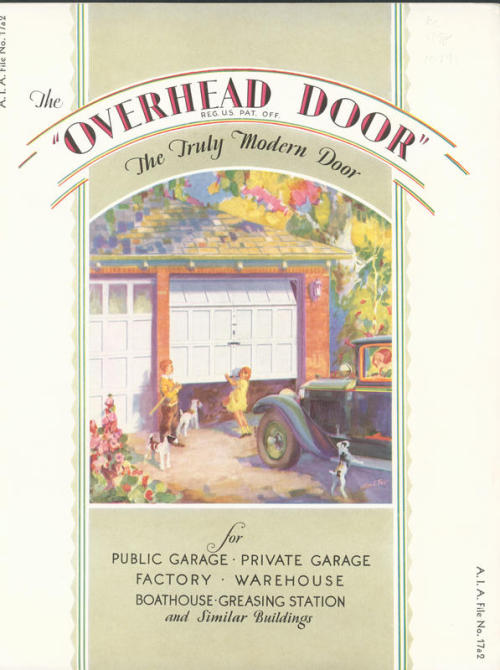 We're enjoying a truly modern #TechTuesday with the world's first overhead garage door company. The first design for a sliding overhead garage door was submitted to the U.S. Patent Office by Owen L. Dautrick of the Dautrick-Johnson Manufacturing Company in August, 1921. His business partner, Clarence G. Johnson, was listed as a witness. A second, improved patent was submitted in October, 1922, listing Dautrick, Johnson, and Arthur Kraska as co-inventors.
The design was intended to address a common complaint of operators of garages, warehouses, and other facilities that required large double doors that swung outward or ran horizontally along tracks; both models suffered heavy wear and tear from frequent use and were made difficult to operate when blocked by snow or other common obstacles.
To market this new invention, Johnson partnered with a lawyer, Forest McKee, to found the Overhead Garage Door Corporation in 1921, and began touring the Midwest with a working prototype mounted to the back of his Model T Ford to secure distributors. By 1923, the company had outgrown its 1,000 square foot production facility based out of an old barn in Detroit, and relocated to a 200,000 square foot facility in Hartford City, Indiana, where it began production in 1924.
Johnson would continue to submit patents for improvements to the overhead garage door up until his death in 1935, including one for an "automatic electric door control" garage door opener that he co-patented with inventor Herbert Cady Blodgett in February 1926.
This catalog from the Overhead Garage Door Corporation dates to no earlier than 1926, as it features the company's patented electric garage door opener, and was probably issued around 1930. It is call number O951 1930 in Hagley Library's collection of trade catalogs. To view it online in our Digital Archive now, click here.