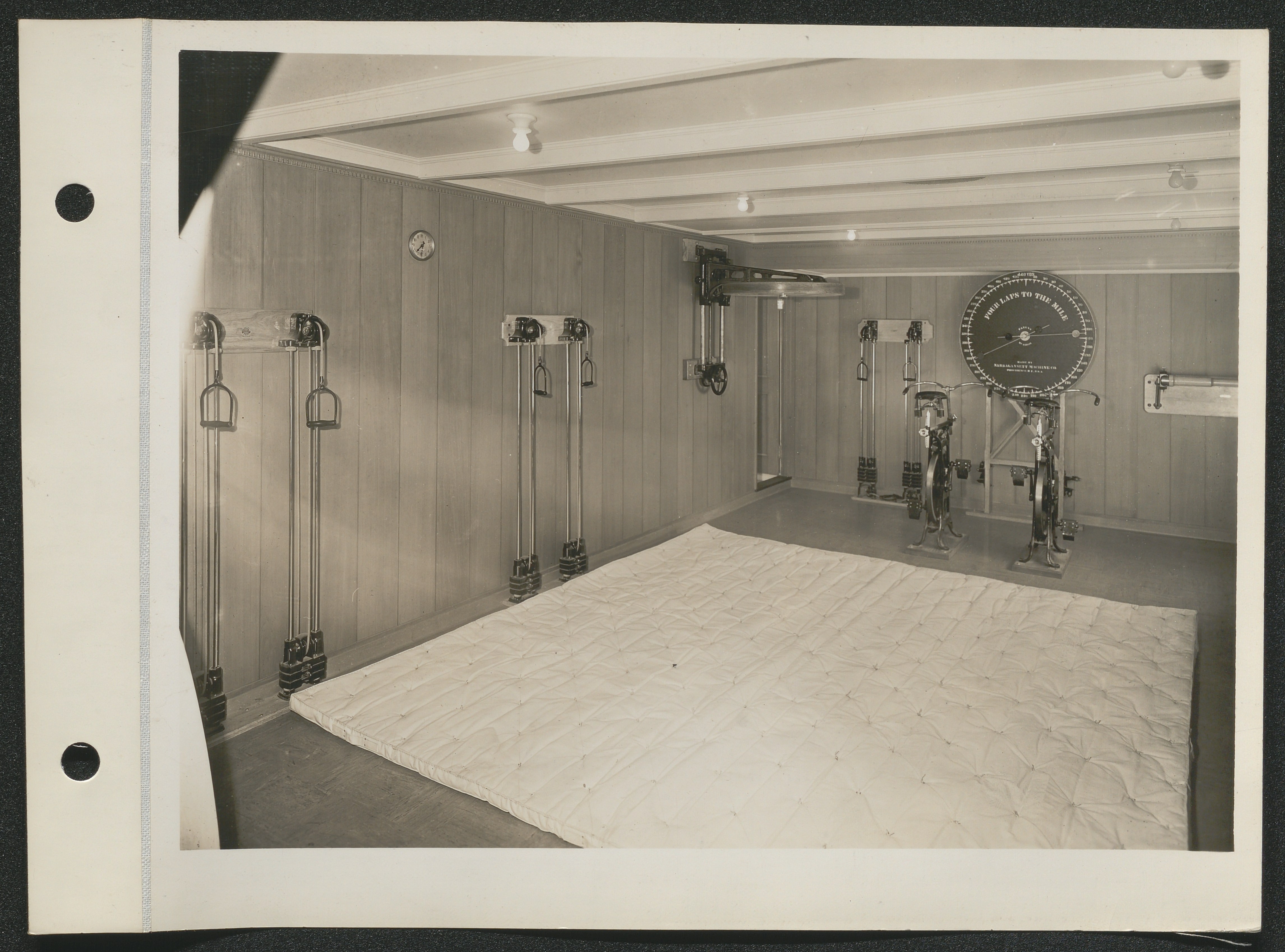 We're feeling the burn this #FitnessFriday, but we're at least doing it in style. This ca. 1932 photograph of exercise equipment was taken in the fitness room of the SS Lurline, a luxury ocean liner built for the Matson Navigation Company's cruise lines running from the West Coast of the United States to destinations in Hawaii and Australasia.
The ship was built by the Bethlehem Shipbuilding Corporation, and this photograph comes from an album documenting the ship's lavish interiors and amenities. The Bethlehem Shipbuilding Corporation was created in 1905 after the Bethlehem Steel Corporation acquired San Francisco's Union Iron Works shipyard and relocated its new shipbuilding operations to Quincy, Massachusetts. The subsidiary company headquarters later relocated to Sparrows Point, Maryland in 1964 after acquiring a large shipyard from the Maryland Steel Company. Until its closure in 1997, however, the company operated shipyards in states across the nation and was, at it's peak, one of the country's "Big Three" shipbuilding operations.
The album is part of Hagley Library's collection of Bethlehem Steel Corporation and Bethlehem Ship Corporation photographs (Accession 1980.300) and is part of a digital collection that contains materials from this collection and from our collection of Bethlehem Steel Company color transparencies and slides (Accession 1992.250). At the turn of the century, under the direction of Charles M. Schwab (1862-1939) and Eugene Grace (1876-1960), Bethlehem Steel Corporation became the second largest American steel company.
These collections includes a wide range of photography which documents the company's long history and the breadth of its enterprises from east to west coasts and overseas. They contain 18th, 19th, and 20th century images of management, workers, shipyards, blast furnaces, and other worksites, as well as images of raw materials, steel ingots, structural steel used in building construction, ships and ship interiors, and household products containing steel such as soda cans and steel furniture. Click here to view these collections online now in our Digital Archive.