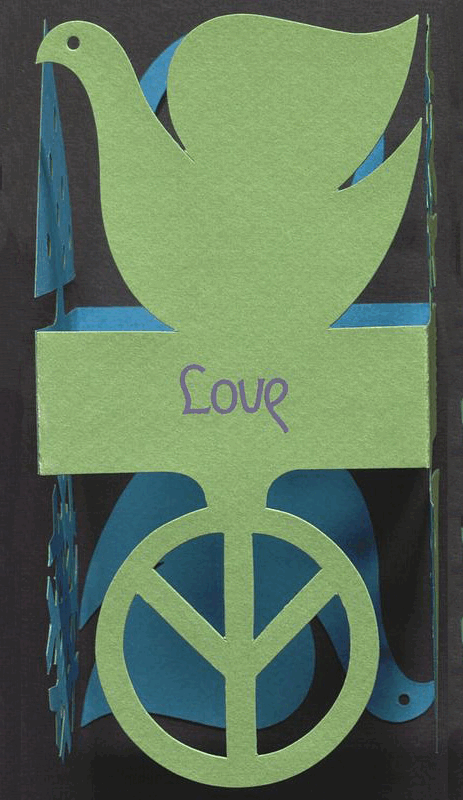 We're heading out for the holidays today with one last post featuring our newest digital collection in the Hagley Digital Archives, which offers a selection of materials from Hagley Library's collections of  Irvin Koons photographs (Accession 1996.315), Irv Koons papers (Accession 2132), and Irv Koons memorabilia (Accession 2716), all originating from the life and work of the graphic artist, industrial designer, and illustrator Irv Koons (1922-2017).
Irv Koons was Jewish, and occasionally did work for clients whose patrons came from Jewish-American communities, such as Barton's Candy Corporation and the Federation of Jewish Philanthropies of New York. But he was also frequently employed by brands who wanted Christmas themed gift packaging to capitalize on holiday sales. 
This undated, three-dimensional holiday card is part of a small collection of memorabilia associated with Koon's personal life, which includes a variety of cards designed by Koons, ca. 1960s and 1970s, to send to clients and friends. Most of the cards, like this one, bear a message of 'Love, Peace, Happiness' or variations thereof.
These collections include also materials documenting his work in marketing and industrial design, his efforts to expand awareness about the historical and contemporary importance of packaging in a consumer economy, his work as an educator in the field of marketing and package design, and his work in advocacy on behalf of underdeveloped and developing nations.
Given Koons' status in the field, these collections are also a useful resource for the study of the growth and development of the packaging industry in the second half of the twentieth century. To view it online now in our Digital Archive, just click here!