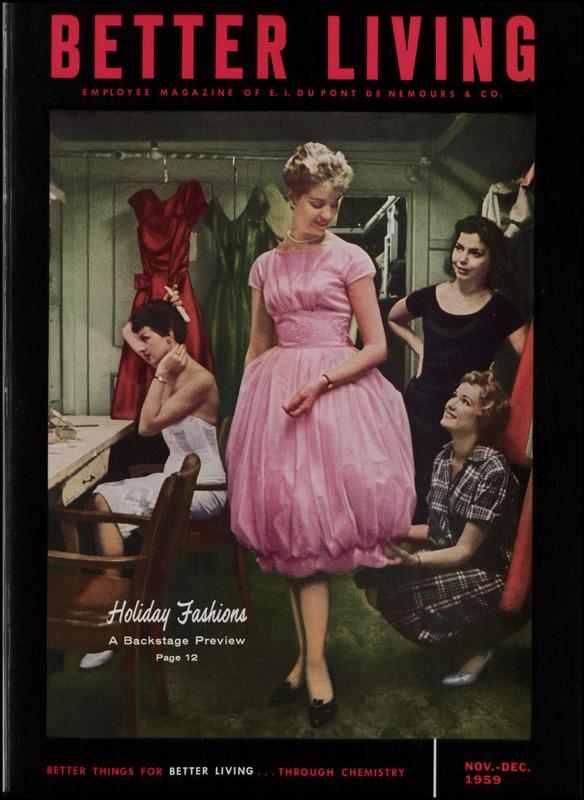 We're bringing you a seasonal #FashionFriday today with this November/December 1959 issue of Better Living magazine.
This cover image documented a model's dressing room of the David Morris Company, a manufacturer of women's dresses. Two "attractive and fashion-curious DuPont employees" are included in the photograph. Nancy Keck, a merchandising receptionist for the New York office's Textile Fibers "finds that a sheer nylon cocktail dress with a harem skirt fits her perfectly" while medical technician Catherine Perrdick (in the black dress), also of the New York office, "murmurs envious approval". The two other women in the photograph are Barbara Parr (adjusting the dress) and Barbara Finnegan, both models employed by the David Morris Company to showcase fashions for visiting shoppers.
The cover story in this issue details the places Keck and Perrdick visited in a tour of New York City's fashion industry on Seventh Avenue and offered readers a sneak peek of all the "party frocks [they] will be seeing this Christmas" made, of course, with DuPont's synthetic textile fibers.
Better Living was a DuPont employee magazine created and published by the company's public relations department. The magazine featured the company's popular advertising slogan "Better Things for Better Living...Through Chemistry."
In keeping with this branding, its issues featured photojournalistic essays celebrating DuPont products' contribution to improving American standards of living, features depicting DuPont employees at work and at leisure, updates on DuPont activities at home and abroad, and articles extolling free market values and the role of citizen consumers in postwar America. To view the full run of the publication, which dates from 1946 to 1972, click here to visit its page in our Digital Archive.