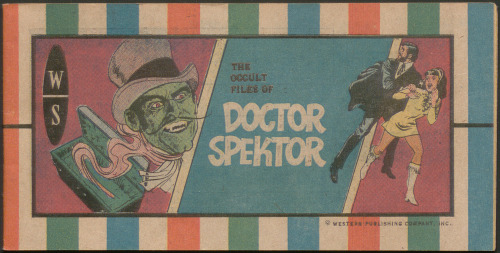 What better way to kick off the week of Halloween than with a #MonsterMonday? Today, we're joining the "occult detective" and monster-hunter Doctor Adam Spektor and his Sioux secretary Lakota Rainflower as they discover that the real vampires were the friends we made along the way (or maybe not, the story is a little confusing).
This issue was published in 1974, but the series began in 1973, after Spektor first appeared in a short story in Mystery Comics Digest #5. Created by author Donald F. Glut (1944 - ) and illustrator Dan Spiegle (1920-2017), the series was published by Western Publishing's Gold Key Comics imprint. Once it spun off into an independent series in May 1973, Spiegle was replaced by Jesse Santos (1928- 2013), an artist from the Philippines who began his comics career in 1946 with a feature in issue #1 of Halakhak Komiks, the first Filipino comic book. Glut and Santos also partnered together for other comics series published by Gold Key Comics, such as Dagar the Invincible and Tragg and the Sky Gods, and all three major characters had periodic crossover appearances in each other's worlds. Spektor's series ended in February 1977 after 24 issues, though his story did get a brief revival in issue #8 of Gold Key Spotlight the following August. All three creators would later take up careers in animation and children's entertainment, though only one would later retire from the field to take up a new life as a lounge singer.
This item is Pam 2017.1288 in the Hagley Library's collection of trade catalogs and pamphlets, and was #7 in a series of promotional Dan Curtis giveaways' issued by Western Publishing. Due to copyright restrictions, it can only be viewed online from on-site, but you can view other comic books in our collection now by visiting this collection in our Digital Archive.