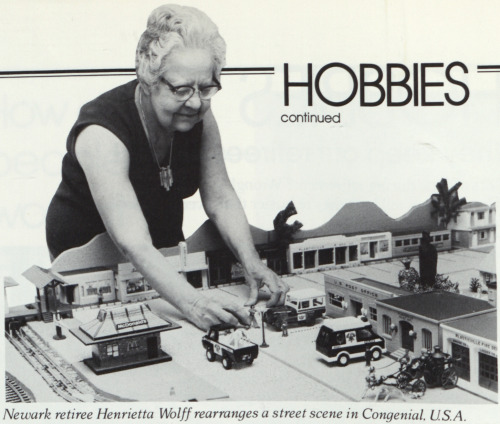 Winter has always been a season for indoor hobbies, and that will be especially true this year. While Hagley Library's Digital Archive contains a wide variety of materials documenting the hobbies and busy work of yesteryear, Henrietta Wolf's miniature city of Congenial, USA is maybe the cutest.
This image is sourced from a January 1980 issue of Avon Products' company magazine Avon and You. The article it was featured in covered the various hobbies that retired Avon employees had adopted in their newfound spare time. Henrietta's miniature city occupied an entire three-room apartment across from the one in which she and her husband lived. It featured a working railroad system, a Bee Gees tape and strobe light, and "hundreds of little people" made out of "pipe cleaners and beads" in "all colors black, white, green, purple so there's no racial discrimination at all."
The Avon materials in the Hagley Digital Archives is composed of selected materials from our Published Collections Department, Avon Products, Inc. records, 1880-2012 (Accession tttt2155), and our collection of Avon Products Inc. photographs and audiovisual materials(Accession 1997.209). It encompasses a range of materials such as advertisements, catalogs, representative's sales tools, and corporate documents intended to provide insight into the history of the company, its sales representatives, employees, and consumers. To view it online now, just click here.