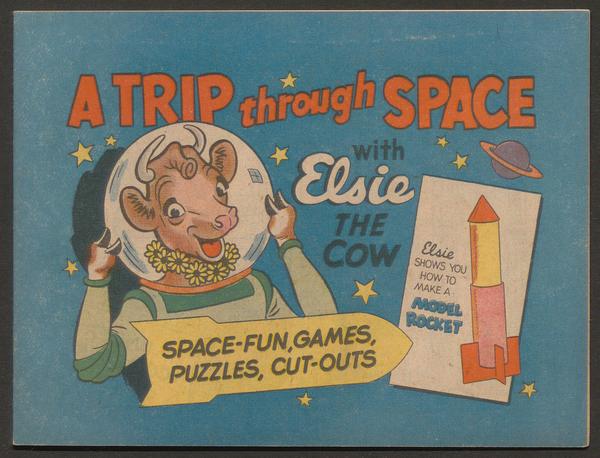 World UFO Day is as good an opportunity as any to share this out of this world activity book from the Borden Company. The Dallas, Texas based dairy company published this little pamphlet around 1950. It featured Elsie the Cow, a cartoon spokescow introduced by the company in 1936, along with her cow compatriots Mrs. Blossom, Bessie, and Clara. Elsie turned out to be the standout star of the promotional campaign, and the company continues to make use of the brand character to this day.
World UFO Day was founded by the World UFO Day Organization in 2001 to commemorate the first widely publicized modern UFO sighting in the United States, which occurred near Mt. Rainier in Washington, in 1947. The date of observance is occasionally moved to July 2 in recognition of the Roswell UFO incident, which also occurred in 1947.
This activity book is Pam 2017.0798 in Hagley Library's collection of trade catalogs and pamphlets. It is also part of a digital collection in our Digital Archive featuring a selection of promotional comic books from our collections. These works were generally, though not always, produced by corporations and other business entities for the purposes of advertising a product, managing a company's public image, or providing consumer education. A number of these works were also produced with the goal of influencing public opinion regarding socioeconomic political issues such as organized labor and government regulation of businesses.
This digital collection does not include all of the Hagley's holdings of promotional comic books. New items may be added periodically. Click here to view it online now.