"Among the special developments of the National Association of Manufacturers was the formation and expansion of its Foreign Service Department. At the time this establishment represented a more practical method of serving manufacturers in the field of foreign trade than any similar facility." 
As I have been writing the historical note for the NAM collection, I am compiling my notes from the last three years of work into a concise narrative. Trying to write a condensed version of an organization's 125-year history is not an easy task – people have literally written books on this subject – so naturally, a lot is left out and complexities are simplified. So, in this article, I want to highlight something not covered in the larger historical note that will accompany the collection's finding aid. 
The quote above comes from a 1950 summary report by James A. Emery on the Namusa Corporation. Before we get to Namusa, however, it is important to know a bit of background to its formation. Under the Foreign Trade Department, NAM established about 2,900 foreign correspondents in all the major sources of foreign trade throughout the world. The Department familiarized itself with available shipping services, with customs laws and practices, and became a source of information relating to foreign trade opportunities. 
As a result of petitions from several members, the Namusa Corporation was organized by the NAM Board of Directors in 1919 under the direction of Nathan Williams, assistant to general counsel, as a result of the Webb-Pomerene Act. The act exempted some exporters' associations from certain antitrust regulations, granting immunity to companies that combined to operate export trade that was essential to the war effort. The charter allowed active NAM members to purchase one share of stock, although the stock was non-assessable and paid no dividends. Namusa was to be operated by its shareholders and to cooperate with others, particularly NAM and its Foreign Trade Department. 
By 1920, J. Philip Bird was managing director and president of Namusa and the assistant treasurer of NAM. By October of the same year, Bird had resigned from Namusa. His activities not only dissatisfied a major number of the Namusa stockholders but resulted in serious losses to the corporation, together with mounting commitments and deficits. The ensuing bitterness between the parties led to a formal complaint in January 1921 to the NAM president, Stephen Mason, from "the Special Investigating Committee of Namusa Corporation." 
The Executive Committee appointed its own committee to investigate. It reported that "the unfortunate situation of Namusa was chiefly due to its internal discords and a lack of cooperation between officers and management," concluding that ultimately NAM was not responsible for the conduct of Namusa, but had merely created it and turned it over to those who desired to operate it as stockholders.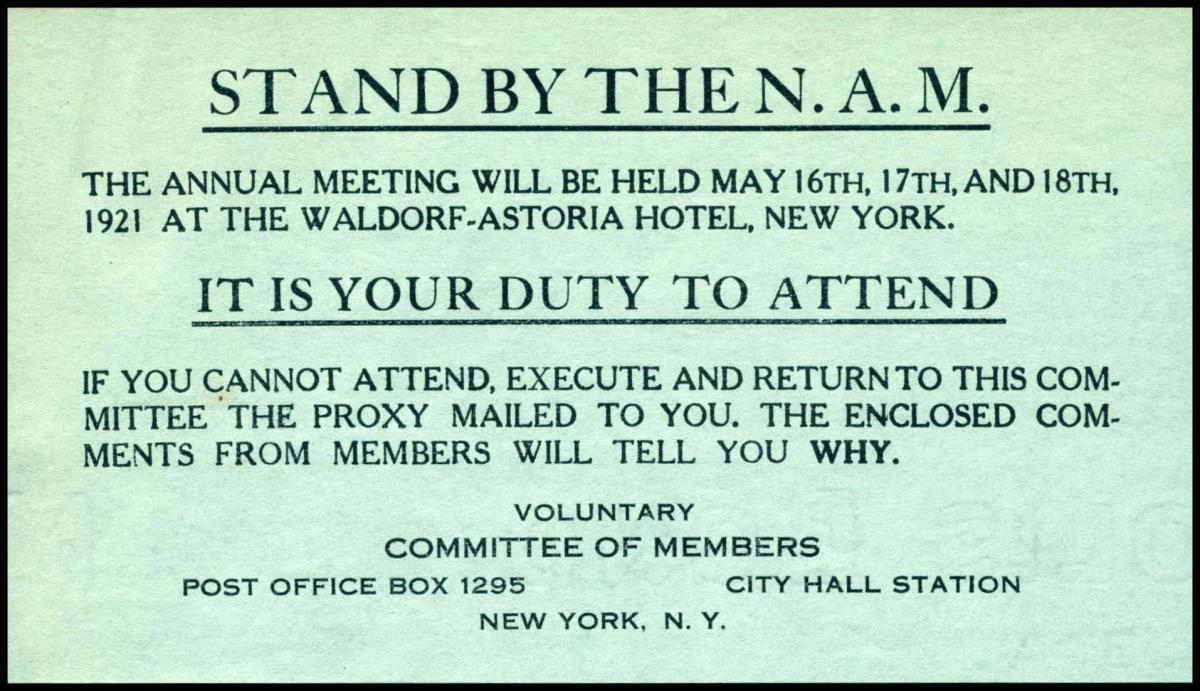 To learn more, please consult Series I (Central files), box 44 and files on Namusa Corporation and Voluntary Committee of Members. 
Source: "Namusa" memorandum (March 1, 1950), Series XII (Vada Horsch subject files), Box 193, National Association of Manufacturers records (Acc. 1411).
---
Ashley Williams is the project archivist for the NAM Collection at Hagley Museum and Library.