Starting this week, the National Association of Manufacturers project will have a summer intern who will help make the older NAM material more accessible. She will be working towards creating an accurate box and folder listing and updating scope and content note and historical note as needed. This is very exciting news as it means the project is slightly ahead of schedule, and more importantly, her work will provide easier and greater access to the material for researchers.
While the intern is working with the already available material, I will be continuing to work on the unprocessed NAM material. Since my last update in April 2018 with the Law Department, a significant amount of manuscript material has been worked on from a variety of departments including Public Affairs, Communications, and Industrial Relations. Most boxes that were clearly labeled as a specific department have been processed, leaving the boxes that will fit into the departments already processed but were not clear which one from the outside label. For example, one box was labeled "parental leave and glass ceiling files" which at first glance does not make it clear that it came from the Industrial Relations department.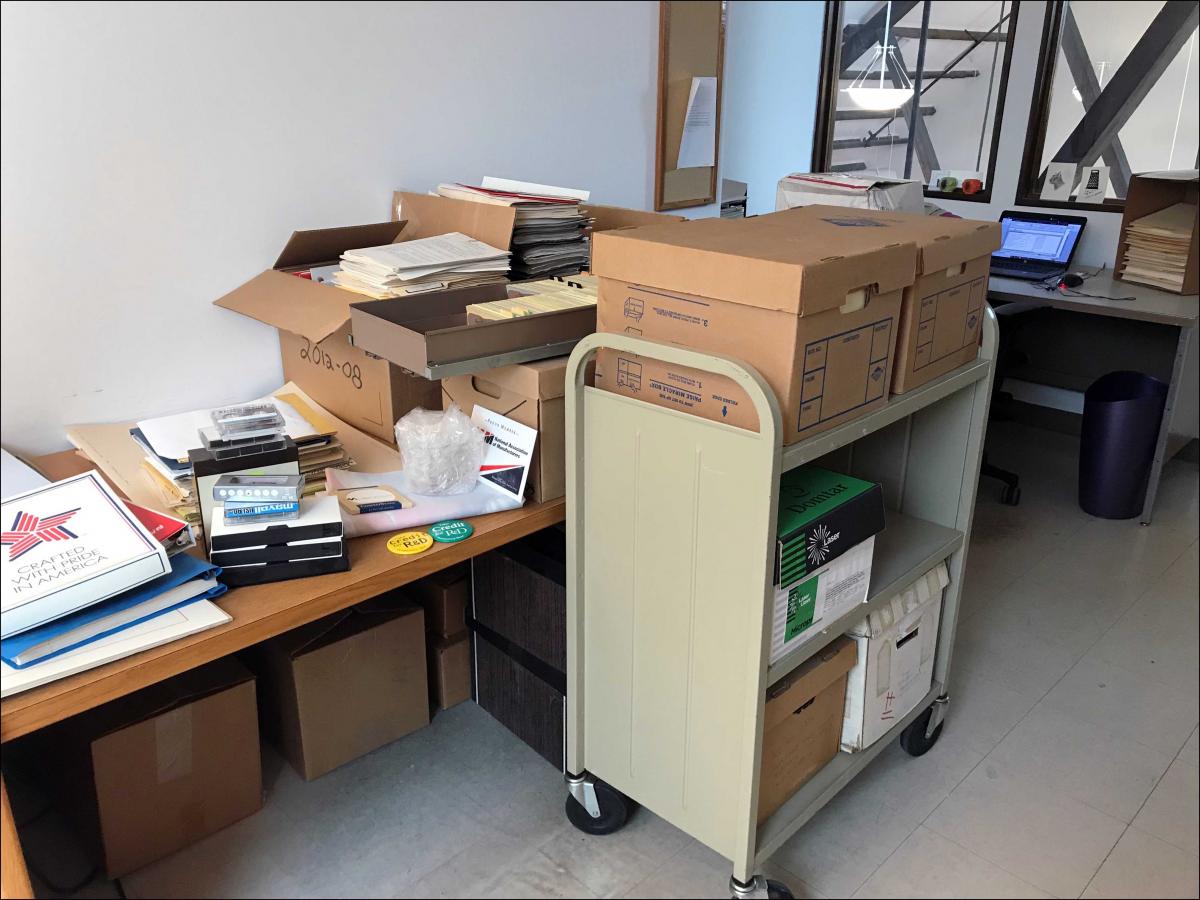 One of the sometimes more frustrating aspects of this project has been name changes. The material is being arranged into series by the department. At different times, the NAM went through a reorganization where departments changed names, responsibilities shifted from one department to another, or departments did similar work. More than once I have had to go to the Board of Directors meeting minutes and business activity reports to see if I can track down changes. Periodically though, I am fortunate that a department's papers indicate a reorganization is coming and gives me a heads up on what the name change will be. An example of this is the Industrial Relations Department. The Open Shop, Industrial Relations, and Human Resources Policy departments are three incarnations of the same department. The name changes reflect the changing needs and focus of not only the department, but the NAM as a whole.
Once all the boxes have been processed, there will still be work to be done before the material is ready for researchers. Folders and boxes need to be put in the correct order, the folder listing will need to be manipulated, scope and content and historical notes need to be written and polished, and boxes labeled with numbers. Additionally, there is some material that will be transferred to AVD and Published Collections.
There is still quite a bit of work to do, but so much progress has been made.  I hope you continue to follow along as the NAM project continues.
---
Ashley Williams is the project archivist for the NAM Collection at Hagley Museum and Library.