The art of perfumery began (like many things) with the ancient Egyptians, and was practiced by the Romans, Persians, Arabs and East Asians through time. Knowledge of perfume could be found in Europe as early as the fourteenth century, and was refined and flourished during the Renaissance in Italy and France. The modern Western perfume industry originated in France during the seventeenth century, when perfumery became a major industry in the south of France. Perfume gained popularity in England during the reigns of Henry VIII and Queen Elizabeth I.
In colonial America, the first scents resembled the colognes of Europe, single note floral toilet water made from local flowers such as roses, orange blossom, lavender or lily of the valley. In 1752, Dr. William Hunter, a pharmacist born in Scotland opened a shop in Newport, Rhode Island, where he sold drugs and perfumes. He imported fragrances from Europe and blended some 20 different colognes himself. The fragrances were numbered One through Twenty, of which Number Six, (created in 1789) was favored by George Washington and John Adams. That company later became Caswell and Massey (which still produces toiletries today). Caswell and Massey is one of the oldest continuously operating American retail companies and the oldest soap and toiletries making company in the United States.
Some of the other nineteenth-century perfume manufacturers in America are represented in Hagley's collections:
"Florida Water" was introduced by the New York City perfumer Robert I. Murray, in 1808. In 1835 Murray was joined by David Trumbull Lanman and the firm became Murray & Lanman, then David T. Lanman and Co., and in 1861 became Lanman & Kemp.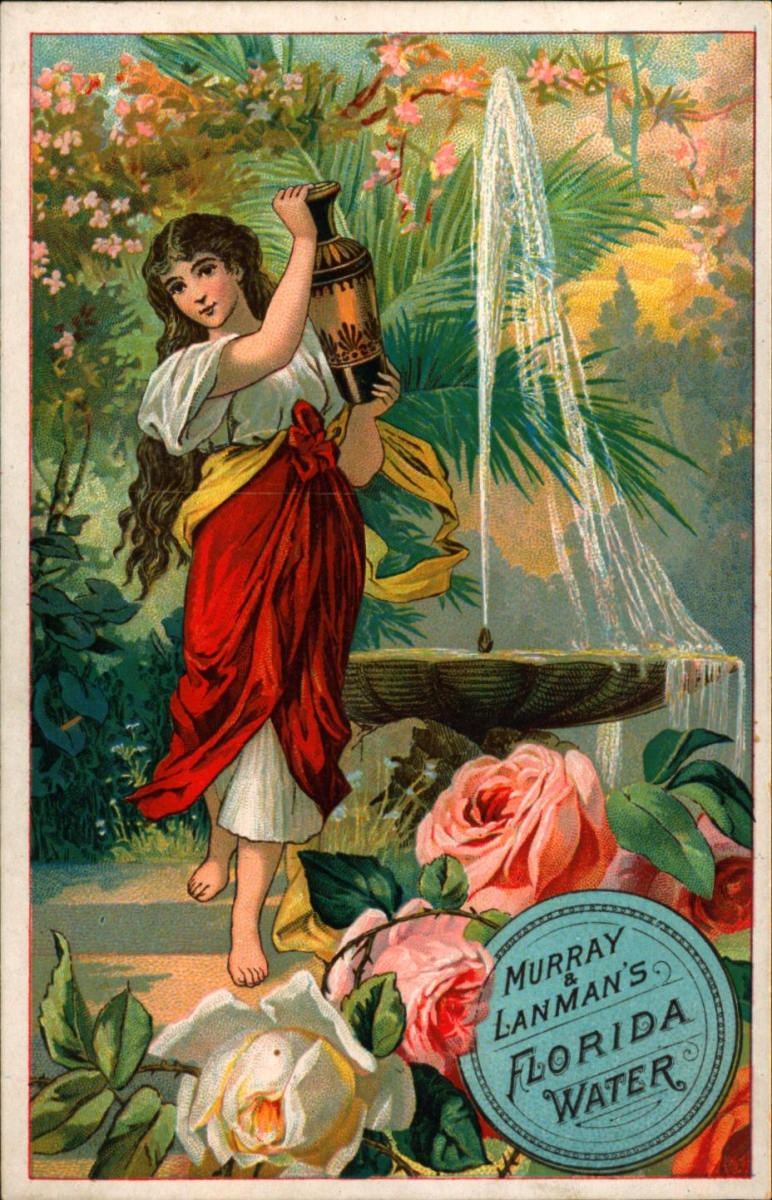 E.W. Hoyt started working in an apothecary shop in Lowell, Massachusetts, in 1851 at the age of 13. He produced "Hoyt's German Cologne" in 1870, even though it didn't come from Germany, or bear any resemblance to German cologne! Around 1871, Hoyt's partner Freeman Ballard Shedd developed the concept of soaking trade cards with cologne and freely distributing the cards both as advertising and samples. During the history of Hoyt's cologne, more than 50 unique cards were created.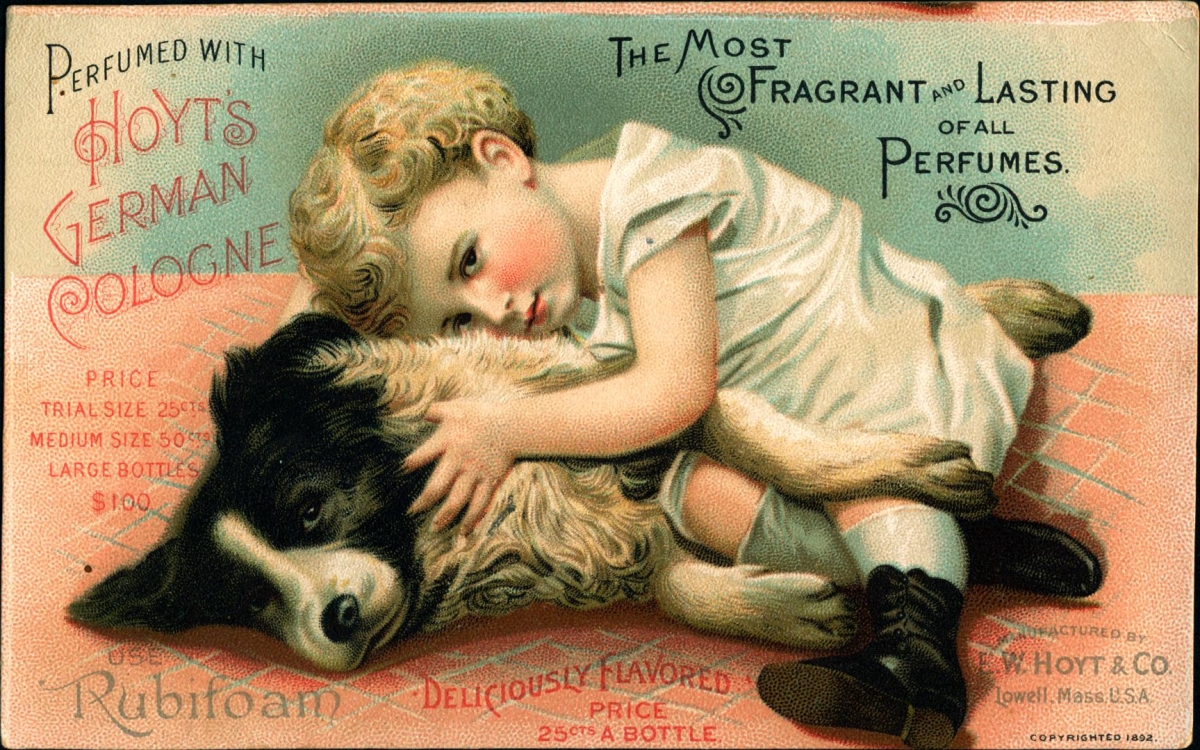 Theodore Ricksecker of New York City, launched his first fragrance in 1868. His use of pottery and glass in unique bottles was part of the appeal and desirability of his products.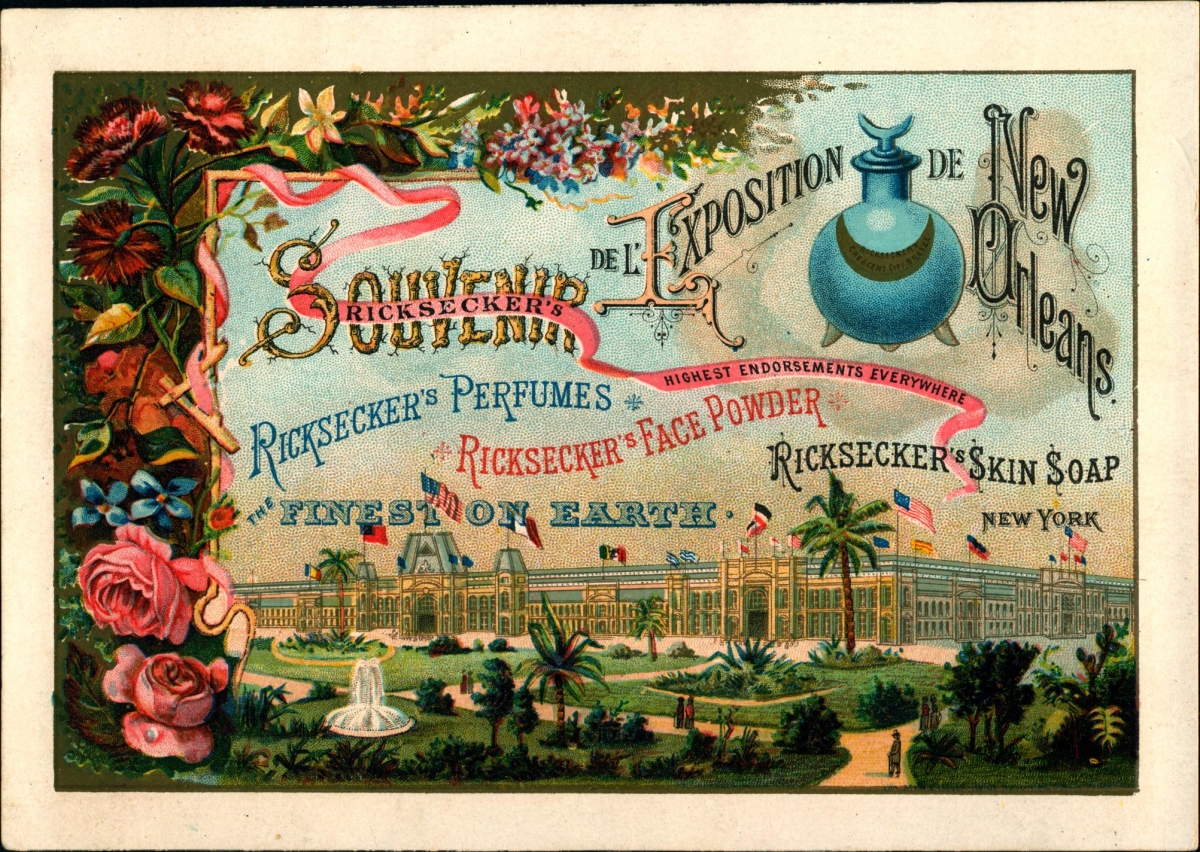 The California Perfume Company was founded by David H. McConnell, a struggling door-to-door salesman. He started the business in New York City, but in 1892, he changed the company name when his business partner, who was living in California, suggested the California Perfume Company. The company later became Avon.
W.J. Austen & Company, of Oswego, New York, began operations in 1878 manufacturing "Austen's Forest Flower Cologne." The business failed in 1886, and it turned over all its stock to Thomson Kingsford (of the corn starch company).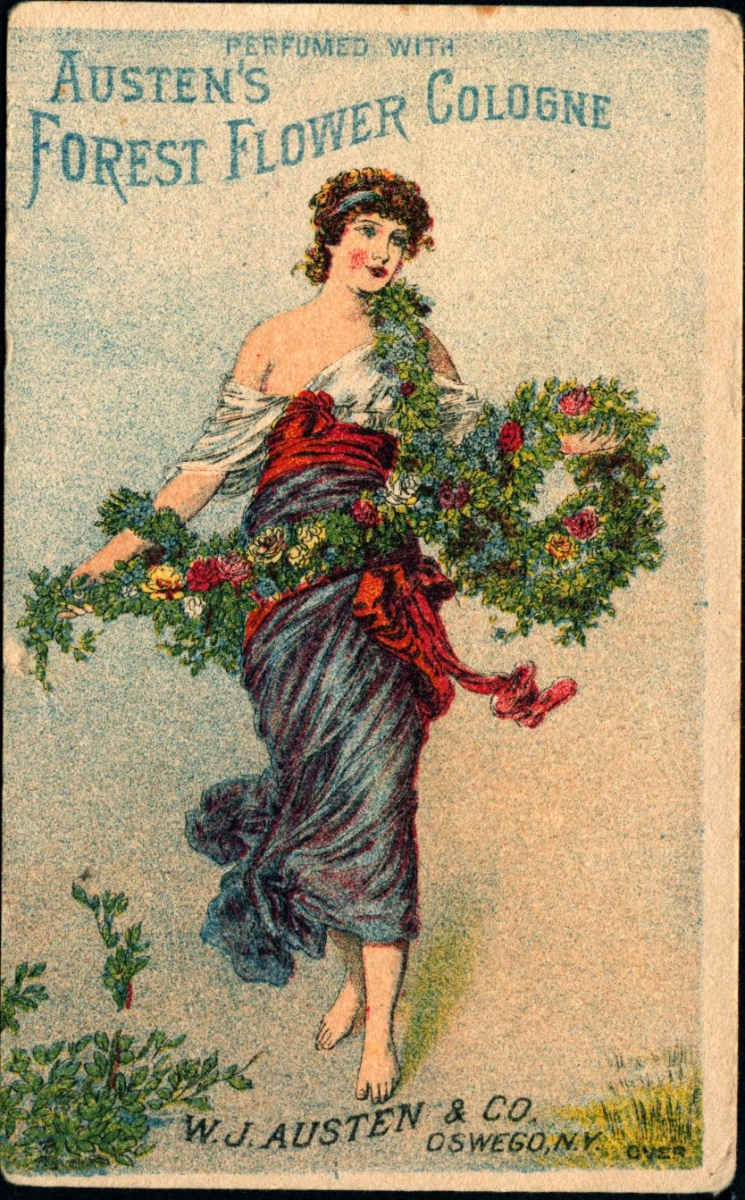 In March of 1902, the New York Times reported that "fifteen of the largest perfume manufacturers and handlers of the United States announced their plan to associate in a group named The American Perfume Company, with headquarters in New York and distribution centers in Detroit and Chicago. Their capital amounts to $5,000,000."  The trade member association was established "by a number of perfume manufacturers in various parts of the country for the purpose of bringing those interested in the trade into closer relation with each other with a view to the advancement and improvement generally of the business throughout the country."
In March 1906, a monthly magazine known as The American Perfumer was first published by William G. Ungerer. Ungerer and Company was founded in 1893 by his father, William P. Ungerer, who had spent more than twenty years training as a perfumer in France.
The magazine has changed names and publishers through the years. In September 1906, the name changed to The American Perfumer and Essential Oil Review. At that time, the perfumery business was more prominent than cosmetics. In 1956 the name changed toAmerican Perfumer and Aromatics. The publication focused on perfumery, aromatics and flavors, and the occasional personal care product; for example, hand creams and royal jelly. In the early years of the magazine, there was no mandatory labeling of product ingredients, and cosmetic companies were afraid to have their scientists publish for fear of giving away trade secrets. In 1961, the name was changed again to American Perfumer and Cosmetics. In January 1972 the name was changed to American Cosmetics and Perfumery, recognizing the changes taking place in cosmetic raw materials, cosmetic research and development, and cosmetic business in general. In 1973 the title was changed again to Cosmetics and Perfumery. In January 1976, the publication was divided into two separate magazines: Perfumer & Flavorist and Cosmetics and Toiletries. In January 1979, an ampersand was substituted to produce the current title, Cosmetics & Toiletries, which is still published today. The website for Cosmetics & Toiletries magazine says that the publication "has been a highly respected and valuable resource for chemists, research scientists and R&D managers for more than 100 years. This peer reviewed scientific publication provides expert information on new technologies, ingredients, international regulations and industry news and analysis to help you do your job better."  Hagley owns a complete run of this journal from May 1912 through December 1971.
Linda Gross is the Reference Librarian in the Published Collections Department at Hagley Library.
Image sources:
Advertising cards and calendar collection. ca. 1870-1905. AVD accession number 1992.229
Color plate catalog of perfumes, toilet waters, sachet powders, complexion creams ... / California Perfume Company. New York : California Perfume Co. : Done by the Robert L. Stillson Co., [1916?] f Trade Cat .C153 1916a
Cover, The American perfumer and essential oil review. [New York : Perfumer Publishing Co.], Vol. VII.,No. III. May, 1912