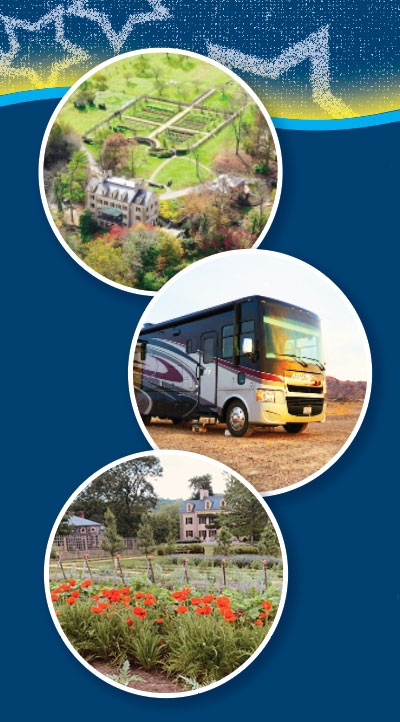 •••
Take a chance at winning one of two fabulous evenings of luxury camping at Hagley! Each raffle winner will enjoy:
• Luxury accommodations for eight in a 39-foot, 2021 Tiffin Luxury Diesel Pusher Motorcoach on Hagley's upper property near the Eleutherian Mills Garden. The motorcoach is stuffed with high-end amenities, including a king bed, full bath, full-service kitchen. Also includes an ice maker to keep those cocktails chilled!
• Catered multi-course dinner
• Movie and Bonfire
• Catered breakfast with a view of the E. I. du Pont Garden
Tickets are $100 each. Prize value $2,500 for each night.
Only 1,000 tickets will be sold. Two winners will be selected.
Drawing held on Facebook Live September 3, 2021, 12 p.m.
Dates for Lux Camping are October 23 & 24, 2021.
Benefits Hagley's STEAM Education Mission.
Entry and Tickets: Participation in this drawing by chance will be through ticket issuance. Tickets can be purchased online via Hagley's website or by calling (302) 658-2400, ext. 203. Your ticket will be mailed to the provided address within ten (10) days of purchase. Hagley Museum and Library, a Delaware nonprofit corporation, assumes no responsibility for the Winner's tax obligations in connection with the Prize and will have no responsibility beyond award of the Prize for its actual use. Eligibility: Entrants and Winner must be 18 years or older and a citizen or permanent resident of the United States. Hagley reserves the right in its sole and absolute discretion to disqualify any ticket holder for violation of these Official Rules or any applicable laws or who makes any misrepresentations relative to this drawing. Hagley employees and their immediate family members (spouse, parent, and children) may not participate and are ineligible to win. Winner must comply with all applicable federal, state, and local restrictions. Selection of Winner: Two (2) Winners will be selected by drawing at random during live stream on September 3, 2021 at approximately 12:00 p.m.  However, that this time, date and location and all other dates stated in these Official Rules may be altered as necessity requires. The Winners do not need to be present to win. The Winners will be notified by return receipt mail, according to the contact information provided at the time of entry. If the Winners cannot be contacted, fail to respond within 14 calendar days, fail to otherwise qualify for the prize or declines the prize, the Winners will forfeit any and all rights to the Prize, and Hagley will select alternative Winners. Dates: Lux Camping evenings will be held October 22 and 23, 2021, with the first winner given the choice of the two dates and the second winner awarded the remaining date.