Holidays at Hagley - November 26 through January 2
NEXT DATE: | 10 a.m. to 4 p.m. |
category:
Family Programs |
"Home for the Holidays: A Celebration of Family"
This year, "home" may have taken on a different, more poignant, meaning, especially around the holidays, when family gathers. It is in this spirit that Hagley celebrates the holiday season with the theme, "Home for the Holidays: A Celebration of Family."
Hagley is working to make your visit safe by following recommended guidelines.
November 26, 2021, through January 2, 2022
CLOSURES: Hagley closes at 2 p.m. on Christmas Eve and is closed on Christmas Day (December 25, 2021)
This year Hagley's holiday activities will take place in the Residence area of the property.
Use Hagley's Library & Soda House entrance at 298 Buck Rd, Wilmington, DE, 19807.
•••

Du Pont Family Home Exhibition, Home for the Holidays: A Celebration of Family
Enjoy a tour of Eleutherian Mills and step into the world of entertaining in the 1920s and 1930s. Take in the festive decorations and learn how the staff prepared delicious food as you discover what would be happening both upstairs and downstairs in the Residence as the family gathered for the holidays. Tours held daily, 10 a.m. to 4 p.m. (last house tour starts at 3:30 p.m.)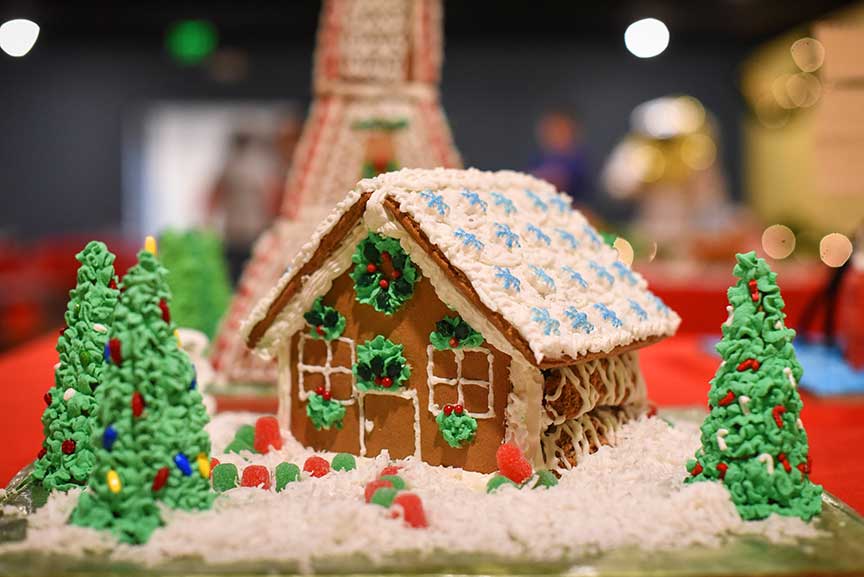 Gingerbread House Contest
Stop by and see the festive entries in Hagley's annual Gingerbread House Competition.
Entries created by local individuals and families will be on display throughout the holiday season in a new location this year, the Hagley Barn. Executive Pastry Chef Michele Mitchell returns with an original gingerbread house celebrating Family. Her unique creation will be on display for the duration of the contest. See these wonderful creations and vote for your favorite!
Be sure to dress warmly for Holidays at Hagley so you can stroll the grounds and visit the Gingerbread House competition in the barn.
•••

Twilight Tours
Enjoy a rare opportunity to see Eleutherian Mills, the first du Pont family home built in America, dressed for the holidays and illuminated with softly glowing lights. Take a Twilight Tour of Eleutherian Mills and see the du Pont Family Home in a whole new light.
•••

Santa at Hagley
On December 4 & 11, Santa stops by the Hagley Barn for a visit! Take a festive holiday photo with Santa in his holiday-decorated workshop.
••••••

Innovations for Celebrations: Inventing the Holidays
Innovations for Celebrations: Inventing the Holidays is a micro-exhibition celebrating patent models connected to the holiday season.You can see these selected patent models displayed with many others from Hagley's collection in the Hagley Library.
•••

Free Admission for Hometown Heroes
During Holidays at Hagley, free admission to Hagley Museum is available for those who have been working to keep the community healthy and safe.
Related Events