Working behind the scenes in an independent research library, I sometimes think of myself as just a cataloger. But through Hagley's commitment as a predominantly white institution to relate the stories of racial minorities equitably, I assert myself as a just cataloger. That means repairing the record when past descriptions of a resource fall short, as discussed in a previous post.  It also means taking an anti-oppressive approach as we add new titles to our catalog.  In this spirit, I share recent acquisitions that bring vibrant self-expressions of a marginalized group into our holdings of 20th-century American trade literature.
Dr. Janice Ward Moss's study of African Americans in the advertising industry helps in "setting the record straight." (Moss 2003, iii) She notes that from the early 1800's, the white establishment "casts stereotypical images of Black people throughout popular culture and exploits them for commercial gain." As we handle disparaging material of this nature in the Published Collections Department, we take as much care in transcribing the text as in describing the content.  With a mindset of "just cataloging," we revise the legacy record for the Twenty-fifth-anniversary catalog of the White Entertainment Bureau. "Purveyors of talent," they promote a few minstrels among sundry acts.  Under our latest policy, we apply the tag "Blackface in entertainment" and supply a brief reader's advisory of its racist content.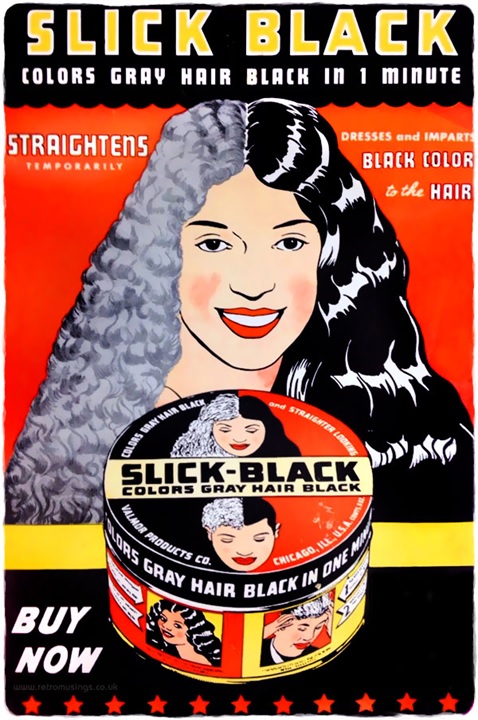 In the early 20th century, however, the Black press circulates realistic images, such as the commercial work of African American artist Charles C. Dawson.  Born in Georgia in 1889, Dawson thrived as a student at the Art Institute of Chicago, as an adman for Black entrepreneurs, and ultimately as a major organizer of the American Negro Exposition in 1940.  He was hired early in his career to design packaging for cosmetics produced by a Jewish couple who acted as "both a merchant and a better-than-equal-opportunity employer."  (Clayman 2020)  We attribute Valmor Products' striking, unsigned poster to Dawson around 1930.  Acquired by Hagley last year, it boldly proclaims, Slick Black: colors gray hair black in 1 minute.  Dawson's work planted a black aesthetic on a Eurocentric landscape, counteracting racist literature and forging "positive collective identity for all people of color." (Glenn 2013, 30)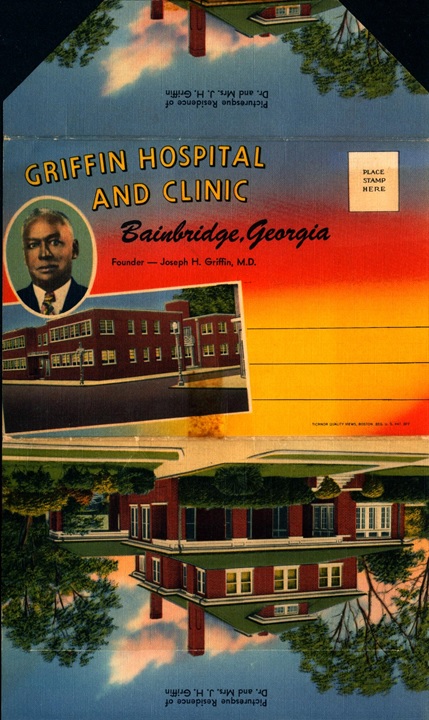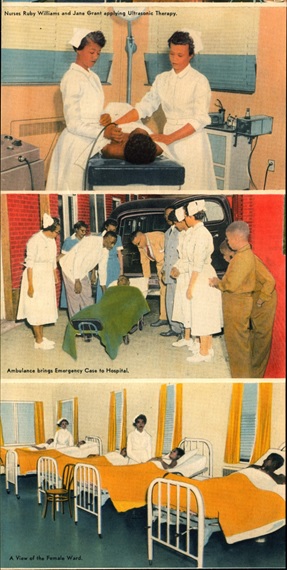 A more recent purchase promotes The Griffin Hospital and Clinic, Bainbridge, Georgia.  This viewbook unfolds accordion-style with 18 color images attached to a vivid pictorial cover designed for mailing.  It portrays surgical care and patient services at the "largest privately owned Hospital for Negroes in the State of Georgia."  It also presents views of the residence and family of its founder, Dr. Joseph H. Griffin, around the time of its opening in 1950.  We welcome this fine example of promotional material devised by a Black professional and dispensed to a Black clientele.  This resource is complemented by the biography, Under the knife: how a wealthy Negro surgeon wielded power in the Jim Crow South, written by Dr. Griffin's great-nephew in the year 2000.  Hugh Pearson speaks openly about the ambition, success, risk, and tragedy that marked the life of the first Black surgeon in the state of Georgia.  Together, these two publications provide insight into the work and family life of medical professionals during segregation.
Through the stewardship of unique resources such as these, Hagley invites you to explore the representation of minority groups in the history of business in America.  
Sources
Clayman, Andrew. "Valmor Products Co., Est. 1926." Made In Chicago Museum, November 3, 2020. https://www.madeinchicagomuseum.com/single-post/famous-products-co/.
Glenn, Kimberly Laurren. Chicago and the Visual Art of the "New Negro Movement," 1925-1940. Iowa Research Online (10.17077/etd.ik9v-0ons) PhD diss, 2013.   https://iro.uiowa.edu/discovery/delivery?vid=01IOWA_INST:ResearchRepository&repId=12730652160002771#13730804460002771.
Moss, Janice Ward. The History and Advancement of African Americans in the Advertising Industry, 1895-1999. Lewiston, NY: Edwin Mellen Press, 2003.
Alice Hanes is the Technical Services Librarian at Hagley Museum and Library.