Also known as: Walker's Mill
Owner: Andrew W. Adams, Joseph Walker
Industry type: Textile mill
Location: Henry Clay Mill, Walker's Mill
Active dates: 1843-1859​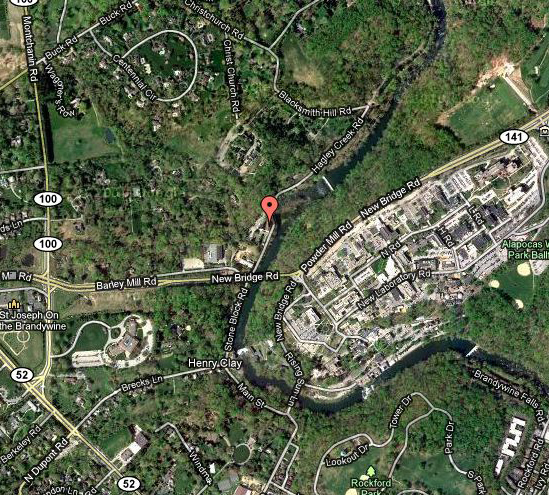 Summary: A.W. Adams & Co. began a three-year lease of Henry Clay Mill on July 1, 1843. E. I. du Pont de Nemours and Company bought Henry Clay Mill from E. I. du Pont's heirs in 1845 for $37,000, and after spending $3,000 on repairs, the company became the landlord of the mill. By this time, the company's cotton-spinning operation had moved across the Brandywine to Simsville Mill, though A. W. Adams & Co. continued to make rent payments for textile firm A. Stephens & Co.'s use of Henry Clay Mill.
The company rented Simsville Mill from Alfred du Pont for $1,200 per year beginning on January 9, 1844. Du Pont renovated the mill during this time, adding new flooring, turbines, and shafting. By 1848, the company was paying $2,200 per year to rent the space. The mill burned on March 23, 1848, costing the company $25,000 in lost machinery. The partnership between Andrew Adams and Joseph Walker dissolved in 1848, and Joseph Walker took over the operation at Simsville Mill, which eventually became known as Walker's Mill. Walker vacated the mill in the late 1850s.
Citations: Boatman, Roy. The Brandywine Cotton Industry, 1795-1865. Hagley Research Report, 1957.