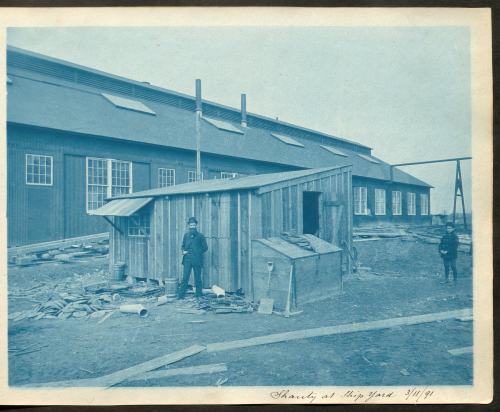 In 1887, the Pennsylvania Steel Company constructed a steel plant at Sparrow's Point, Maryland on the mouth of the Patapsco River. Shortly after construction was completed, the plant was incorporated as the Maryland Steel Company of Baltimore County. That same year, 1891, the Marine Department, which included a shipyard, was created. The steel-works and shipyard continued to operate as the Maryland Steel Company until 1916, when Bethlehem Steel acquired the Pennsylvania Steel Company and its subsidiary, Maryland Steel.
These cyanotype photographs, taken on this date, March 11, in 1891, are part of Hagley Library's Maryland Steel Co. photograph album(Accession 2008.224), a collection of three albums containing 204 cyanotype photographs taken at the company's steel plant and shipyard between 1890 and 1894. The albums contains exterior and interior photographs of buildings involved in steel production and steel workers, the company's shipyard and shipyard buildings in use, and the construction and launch of ships built by the company, primarily tugs and coastal passenger steamships.
To view these albums online now in our Digital Archive, just click here.