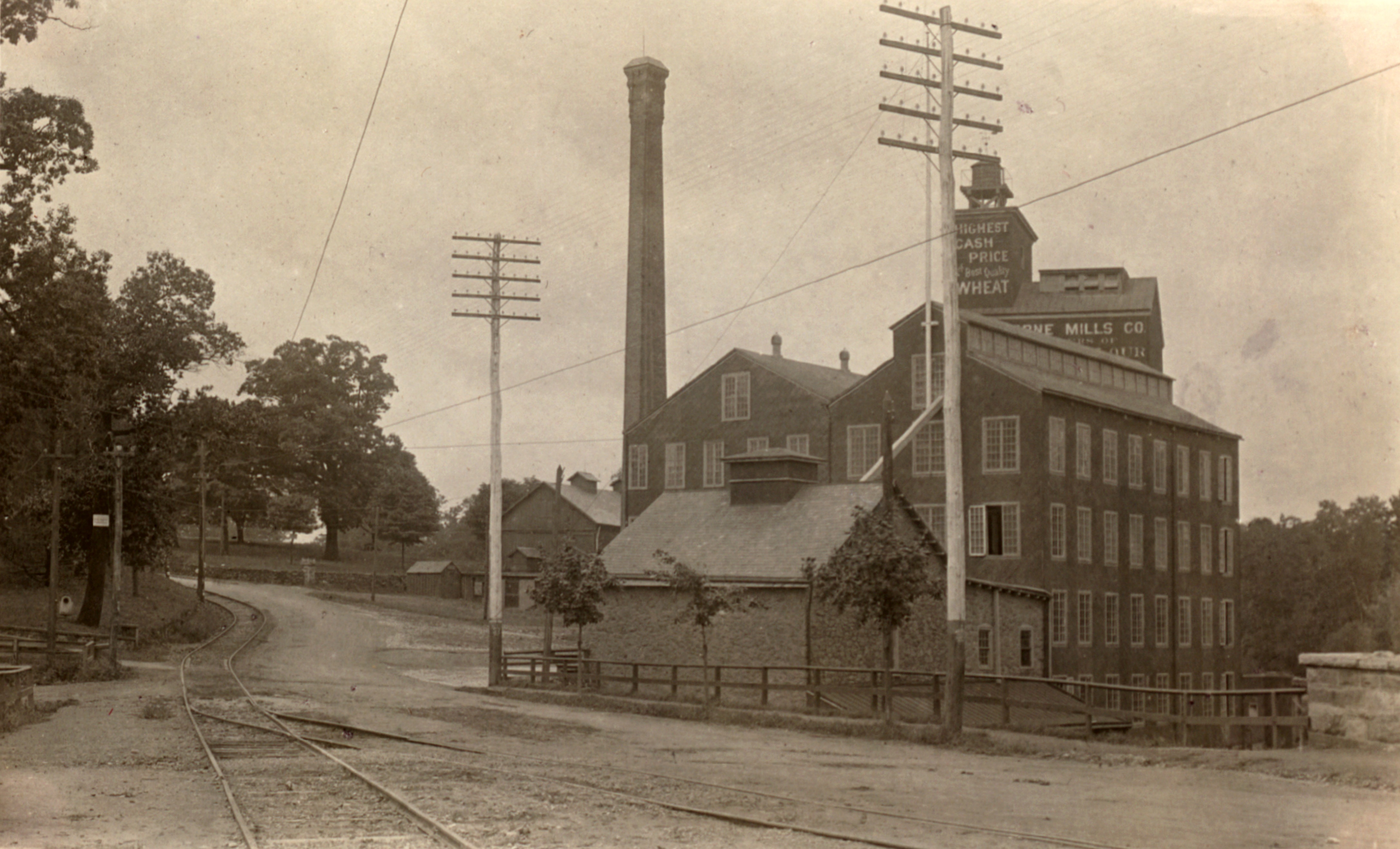 This ca.1900 photograph looks west along West Chester Pike in Millbourne borough, Pennsylvania, bordering West Philadelphia along Cobb's Creek.
Millbourne Mills, whose sign is partially visible in the distant right, was the name of a flour mill that produced flour under the "King Midas Flour" brand. It was also the name of the railroad station located there. The station, as well as a milk house, are also visible in the right-hand side of the photograph.
The station offered an interchange for the Philadelphia and Western Railroad, Philadelphia and West Chester Traction Company, and the Philadelphia Rapid Transit Company, though differences in rail gauges prevented the latter two companies from interchanging rolling stock.
This photograph, attributed to the Philadelphia and West Chester Traction Company, is part of Hagley Library's Red Arrow Lines photograph collection (Accession 1972.438). Red Arrow Lines was a division of the Philadelphia Suburban Transportation Company, a transit company incorporated in 1936 by the merger of the Philadelphia & West Chester Traction Company and the Philadelphia & Garrettford Street Railway Company.
The Philadelphia & West Chester Traction Company was organized on April 24, 1895, for the purpose of electrifying and operating a a horse car line built by the Delaware County Passenger Rail Road Company in 1859 that ran from 42nd Street in Philadelphia to Upper Darby.
In 1899, the company was acquired by A. Merritt Taylor, who greatly expanded the system and used it to foster real estate development in the western suburbs. Taylor later organized the Philadelphia & Garrettford Street Railway Company in 1904 for this same purpose.
A. Merritt Taylor retired in 1932 and was succeeded by his son Merritt H. Taylor, who oversaw the merging of these networks into the Philadelphia Transportation Company in 1936, which created a network of buses, streetcars, and high-speed rail that connected Philadelphia's suburbs to the city.
Over the 1960s, however, under the leadership of his son, Merritt H. Taylor, Jr., the company's unwillingness to join competing companies in public-private regional transportation compacts that consolidated services or accepted public regulation in exchange for public subsidies and other benefits led to increased expenses, revenue losses, and reduced ridership.
In 1970, the company's most profitable asset, the Red Arrow division was sold to SEPTA (the Southeastern Pennsylvania Transportation Authority, formed in 1963). The Philadelphia Transportation Company was then renamed the Bryn Mawr Group, Inc. and became a Florida real estate company.