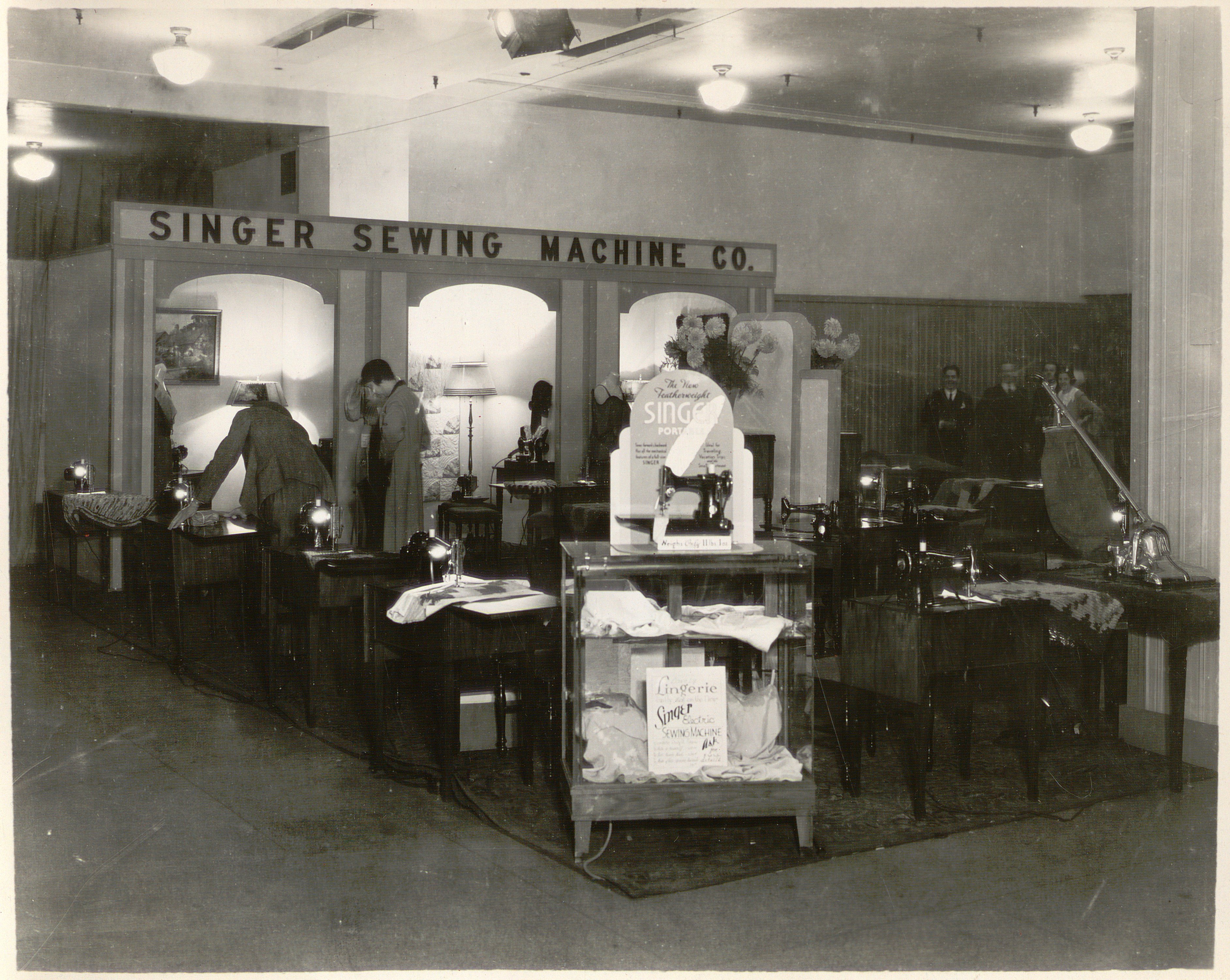 On this date, August 12, in 1851, Isaac Merritt Singer (1811-1875) obtained US Patent number 8294 for his improvements to a sewing machine based on a model designed by John A. Lerow and Sherburne C. Blodgett.
Singer wasn't the first to invent the sewing machine - various models had been proposed and manufactured by others as early as 1755. But Singer's modifications to the designs of others made his model the first commercially viable machine for home use. The company he founded to manufacture and sell the machines, the Singer Sewing Machine Company, further encouraged sales of the sewing machine as a consumer good by offering payment plans in installments. 
This photograph of the Singer Sewing Machine Company exhibit at the Electrical Association of New York's National Electrical and Radio Exposition was taken on September 25, 1934.  It part of Hagley Library's National Electrical and Radio Exposition album (Accession 2015.289). The trade show was held in New York City at Madison Square Garden from September 19th to the 29th, and was one of the annual radio and electronic products trade shows held in the city in the 1920s through the 1940s.
Similar radio expositions during the era were hosted in other major U.S. cities sponsored by local trade associations that brought together manufacturers, retailers, and customers.The expositions included national manufacturers and large retailers from around the country to display, demonstrate, and sell their products.
Among the more prominent products featured at the expositions during this period were radios, household appliances (vacuums, ovens, refrigerators, etc.), home/industrial lighting, and heating/air conditioning technology.This collection includes 45 photographs taken during the exposition. The photographs are primarily of various companies' individual displays. Companies represented include RCA, Westinghouse Electric, Singer Sewing Machine, General Electric, Hoover, Leonard, among others. To view more photographs from this album online now, click here.