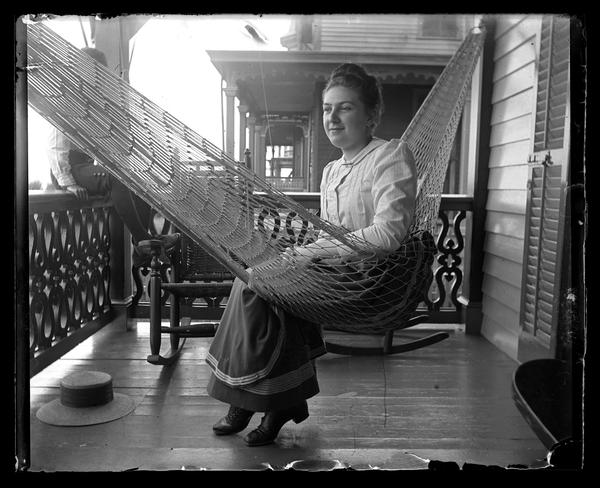 Doing work to uncover the commercial roots of Hammock Day seems to violate the spirit of today's hashtag holiday, so I'll just promise that I didn't work very hard on this one. It appears to have entered the crowd of other unofficial internet holidays in 2008, and was the very meta creation of Holiday Insights, a website that appears to exist for the purpose of compiling other unofficial internet holidays. Who else needs a nap?
This ca. 1887 glass plate negative image of a hammock being put to good use was captured on the porch of a Cape May, New Jersey summer home associated with the family of Lammot du Pont. It is part of the Hagley Library's P.S. du Pont photographs (Longwood) collection (Accession 1969.002). This collection of over 64,00 photographs includes images collected by Pierre S. du Pont during his life. Over 1,000 images from the collection show the development of Longwood Gardens. Also included are photographs of the du Pont family, travel images, and a variety of other photos documenting the interests and activities of P.S. du Pont.
To view this item and others from this collection in our Digital Archive, click here.