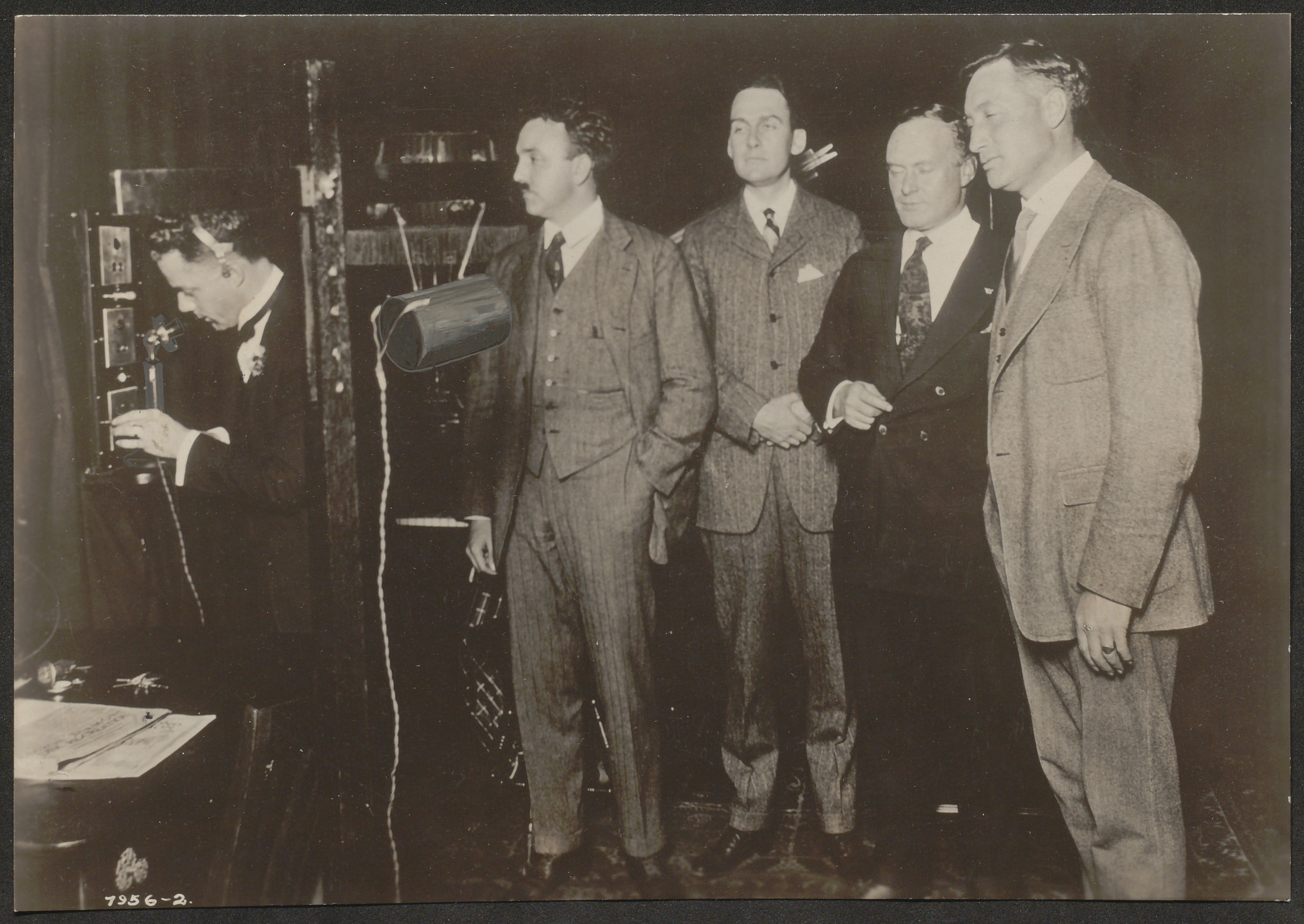 I don't know about you, but I heard a man there pays folks money to sing into a can on #MusicMonday.
This photograph shows the members of The Revelers, a recording group that had previously recorded as the the Shannon Four and the Shannon Quartet, prior to the addition of a fifth member. The group were active in radio, vaudeville, and as recording artists for Victor and its later incarnation, RCA Victor.
The groups' members also recorded under pseudonyms for other labels; while working for Columbia Records, they recorded as the Singing Sophomores, while their Brunswick Records contract identified them as The Merrymakers.
This photograph was created in the RCA Radiotron Company studio at Harrison, New Jersey on November 11, 1930. It is part of Hagley Library's collection of Radio Corporation of America photographs (Accession 1995.292). The collection consists of photographs and negatives relating to Radio Corporation of America (RCA), the Victor Talking Machine Company, which was purchased by RCA in 1929, and the RCA-Victor Division of Radio Corporation of America.
In 1887, German-born inventor Emile Berliner (1851-1929) received a U.S. patent for the gramophone, the first commercially available flat disk playing phonograph. In 1895, Berliner and a group of investors started the Berliner Gramophone Company to manufacture the gramophone for commercial use. Berliner's design improved on the phonograph invented by Thomas Edison (1847-1931) in 1877 as it allowed for ease of duplication from a master recording, but the hand-cranked gramophone could not maintain constant speed and pitch while playing.
In 1896, Eldridge Reeves Johnson, a machinist from Camden, New Jersey, developed a spring motor for the Berliner gramophone and began to produce motors, sound boxes and metal parts for Berliner Gramophone. When Emile Berliner underwent legal difficulties, Johnson decided to adopt a brand name and distribute his own gramophones. In 1900, Eldridge Johnson (1867-1945) formed the Consolidated Talking Machine Company with Leon F. Douglass (1869-1940), but it would be short lived.
In 1901, Johnson combined his patents with those of Emile Berliner, incorporating the Victor Talking Machine Company in Camden, New Jersey and adopting the "His Master's Voice" trademark from Berliner. The Victor Talking Machine Company increased in success continually, signing Enrico Caruso (1873-1921) and John Phillips Sousa (1854-1932) to recording contracts, introducing the Victrola with its enclosed horn in 1906 and improving recording technology. The company continued to expand into the 1920s, when sales began to flatten with the popularity of radio.
Radio Corporation of America (RCA) was incorporated in 1919, taking over the Marconi Wireless patents in the United States and focusing their efforts on international communications. RCA quickly entered the broadcasting field in July 1921 and shortly thereafter began to sell home broadcasting equipment manufactured by GE and Westinghouse.
RCA desired its own manufacturing facilities, however, and purchased the Victor Talking Machine Company on March 15, 1929. The corporation became the RCA Victor Company in 1930. This merger allowed RCA to consolidate the research, engineering, manufacturing and sales of RCA products. RCA continued to diversity its products throughout the 1930s, expanding to include developments such as radar, airborne electronics and television.