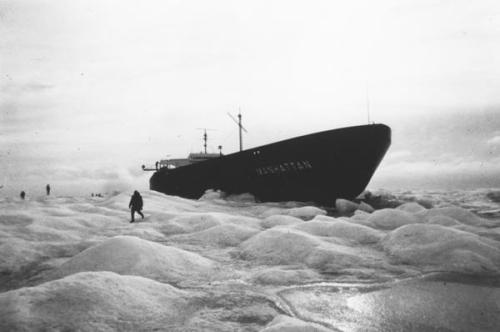 It's another chilly, snowy winter Friday at Hagley Library, so here's a literal icebreaker to move us along to the weekend and, hopefully, warmer days ahead. This photograph shows the SS Manhattan, a ship built in 1962 as an oil tanker at the Fore River Shipyard in Quincy, Massachusetts, but which began retrofitting operations in 1968 for a new life as an icebreaker.
When retrofitting was complete in 1969, they made the Manhattan the largest American merchant ship in history, the largest icebreaking ship in history, and well-suited for its next journey; becoming the first commercial ship to traverse the Northwest Passage.
The ship made its journey later that year, setting off an international incident over Canada and the United States' disputed sovereignty claims to the region. The goal of the journey was to test the feasibility of the route as a permanent, year-round transport option for Alaskan oil shipments. Canada's desire to make exclusive claims to the waterway rested in part on the nation's concern over pollution and clean-up liabilities had the SS Manhattan failed in its objective and loosed its cargo into the sea.
Fortunately, that didn't happen. The 1969 voyage successfully transported oil across the Northwest Passage without incident, and another voyage was made in 1970. The Manhattan sustained considerable damage during both trips, however, making the costs of shipping via this route unsustainable at the time.
This photograph is part of Hagley Library's collection of Lukens Steel Company photographs (Accession 1972.360). Lukens Steel Company was a medium-sized producer of specialty steel products and one of the top three producers of steel plate in the United States. The company is noted for being the first industrial company in the United States led by a woman, Rebecca Lukens (1794-1854).
A selection of material from this collection has been digitized, including woodcuts showing the early history of the mill, interior and exterior views of factory buildings, various depictions of machinery, employees both at work and leisure, floods in 1955 and 1973, and twentieth-century aerial views of the Coatesville plant. Other digital items depict the owning families, company anniversary celebrations, and philanthropic activities supported by Charles Lukens Huston. The collection has not been digitized in its entirety. To view the digitized items online now, click here to visit its page in our Digital Archive.