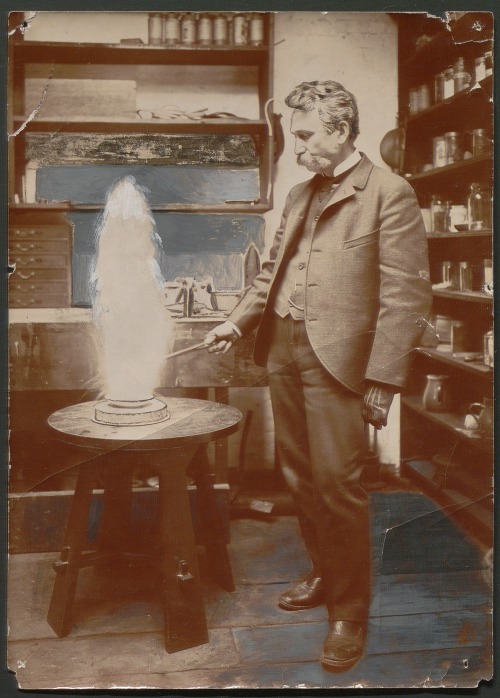 Today is National Inventors' Day in the United States, and has been since 1982, when Senate Joint Resolution 140designated the date as such, choosing this specific day on account of it also being anniversary of the birth of Thomas Alva Edison.
We're marking the date with this undated photograph of chemist and inventor Hudson Maxim (1853-1927). Hudson is best known for his work in the development of smokeless gunpowder and military explosives, and came from a family of inventors. His eldest brother, sometime employer and frequent rival was the prolific inventor Hiram Stevens Maxim, who created the Maxim gun, the first truly efficient automatic machine gun. His nephew was Hiram Percy Maxim, inventor of the Maxim Silencer.
While this photograph of Maxim experimenting with black powder is undated, it appears to have been taken after 1894, when Maxim lost his left hand experimenting with the explosive mercury fulminate.
This photograph is from Hagley Library's Hudson Maxim collection of graphic materials (Accession 1996.312), from which selected materials were chosen for inclusion in a digital collection of materials related to Hudson Maxim. The items in this digital collection chronicle Hudson Maxim's life and work from the late 1880's, when he began working for his eldest brother, to the final years of his life.
Hagley's Hudson Maxim digital collection documents not only his scientific work, but also his collaborations with the du Pont family and company, as well as his personal business affairs and family life. It also includes coverage of his various, less successful efforts to expand his empire, including his promotion of "Maxim-feast" (a soybean-based food supplement), "the Game of War" (a supposed improvement on chess), and the Maxim Munitions Corporation, which he withdrew from when its managers tied his name to a scheme to turn water into gasoline.There are also writings covering Maxim's second career as a public speaker and inveterate writer of magazine articles and letters to the editor, freely venting his many, many (so many) opinions on poetry and language as well as invention, progress, war, pacificism, women's rights, Prohibition, and public affairs.