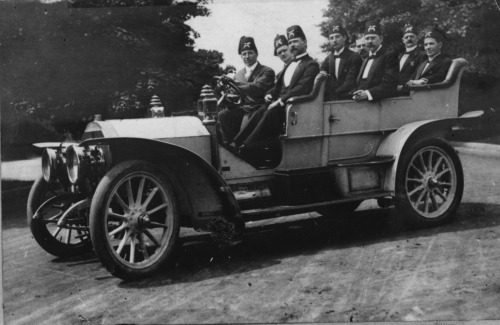 We don't host a lot of #FreemasonFridays over here at Hagley, but these gentlemen in their Matheson automobile asked nicely, so we're making an exception.
This ca. 1910 photograph is part of our collection of Matheson Automobile Company photographs (Accession 1989.327). This collection includes 135 images dating largely from 1901 to 1912 from the Matheson Automobile Company, a small automaker headquartered out of Holyoke, Massachusetts, and later Wilkes Barre, Pennsylvania.
Matheson automobiles were particularly popular for the power they provided, winning trophies in numerous hill climb competitions in the first decade of the twentieth century. The company's hand-built and custom-made cars were eventually pushed out of the market by smaller, cheaper, more mass-produced vehicles. To view our digital version of this collection, which includes images of automobile races, a Matheson European tour, and Matheson automobiles being manufactured and in use, click here to visit its page in our Digital Archive.