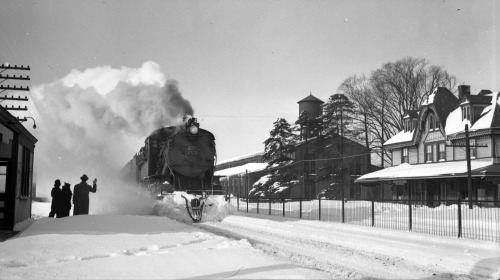 As we wait to find out whether today's snow storm will be a blizzard or a bust, we're getting into the seasonal spirit with this 1947 photographic negative of a Central Railroad of New Jerseylocomotive making short work of snowfall alongside Clinton Avenue in Plainfield, New Jersey.
This item is part of Hagley Library's Herbert Harwood Jr. Railroad and Transportation Collection of photographic negatives, which comprises nearly 150,000 images covering all of the twentieth century. The collection includes Harwood's own work as a railroad photographer as well as the work of others. Among the collection are photographs from many notable photographers active in the 1930s and u201840s and well as the work of his father-in-law, George M. Beischer, who served as the chief mechanical officer for several railroads, including the fledgling Amtrak in the 1970s.
The collection is currently being processed, but selected items have been digitized and made available on the Hagley Library's Digital Archive. Click here to view them now.