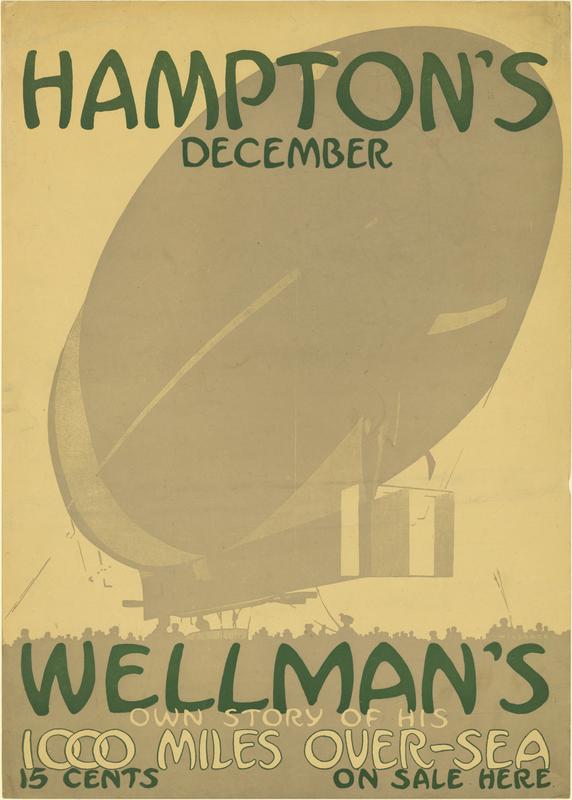 This weekend will mark a historic moment in communications and aviation history. On October 15, 1910, Melvin Vaniman sent one of the first in-flight air to ground radio transmissions; "Roy, come and get this goddamned cat."
The flight in question was that of the dirigible America. Led by journalist and aviator Walter Wellman, the flight was an attempt to become the first of its kind to cross the Atlantic Ocean by air. When it began its trip from Atlantic City, the airship carried one of the earliest radio sets ever to be installed on an aircraft. It also carried Kiddo, a stray cat from the airfield that one of the dirigible's crew had brought on board for good luck.
Kiddo was less than pleased with the accommodations, however. The airship's navigator, F. Murray Simon, noted in his log that, within half an hour of the dirigible becoming airborne, the cat began "rushing around the airship like a squirrel in a cage", leading Jack Irwin, the ship's radio operator, to complain that the cat was "raising hell" and "driving him mad," and that something needed to be done.
The crew convened for a vote and Vaniman, the airship's engineer, put the dirigible's radio set to use with a request for assistance. What followed was an attempt was made to lower the cat down to a crew of journalists following the dirigible's flight in a lifeboat. The attempt, however, was unsuccessful, and the crew resigned themselves to Kiddo becoming a long-term crew member.
Long term turned short term quickly. The next day, the weather turned dangerous and the dirigible's engines began to fail. Seeing the British steamship RMS Trent, which had crossed their path on its own voyage from Bermuda to New York, America signaled the steamship using a Morse Lamp. Jack Irwin then made the first aerial to ship distress call by radio on October 16, 1910, allowing the crew, Kiddo included, to abandon the dirigible in favor of the Trent.
Despite failing in its transatlantic ambitions, America and its crew broke aviation records for time spent in the air and for distance traveled by air, and the crew returned as celebrities. Kiddo, in particular, was embraced by the public.
Renamed 'Trent' after the steamship, the cat's next adventure was a stint in the window of Gimbel's department store in New York City, where the once feral feline lounged before an adoring public in a gilded cage full of pillows. Upon Kiddo/Trent's retirement as a public figure, he became a pet to Walter Wellman's daughter, who cared for him for the rest of his remaining nine lives.
Melvin Vaniman's transmission also received much attention, and despite being widely reported as the first of its kind, it does appear that it was edged out by a transmission sent by the Canadian aviator J.D.A. McCurdy on August 27, 1910 during an air to ground wireless experiment in Long Island, New York.
McCurdy's message, however, which was "Another chapter in aerial achievement is recorded in the sending of a wireless message from an aeroplane…McCurdy", failed to swear or mention a cat. As a result, it was Vaniman's that seized the public imagination. As a result, the first of their kind experimental transmissions sent by McCurdy (as well as one of his colleagues the following September) were generally overshadowed by Vaniman's first non-experimental in-flight air to ground radio transmission in October, which was glamorized both by its content and by context.
This December 1910 cover of 'Hampton's Magazine' graced an issue that covered the journey of Wellman and Kiddo, and is part of Hagley Library's Lammot du Pont, Jr. collection of aeronautical photographs (Accession 1975.360). Lammot du Pont, Jr. (1909-1964) assembled a large collection of books, manuscripts, prints, drawings and photographs relating to the history of aeronautics from the first balloon flights through the 1940s.
This collection has not been digitized in its entirety.The online collection primarily consists of photographs that depict subjects such as airplanes, balloons and dirigibles, seaplanes, male and female pilots, long-distance and round-the-world flights, airplane crashes, air races, flying instruction, and the Arctic schooner Effie M. Morrissey. Nearly all of the photographs are news service images, many accompanied by original caption information.
You can view more digitized material from this collection on its page in our Digital Archive.